Mandevillas in Containers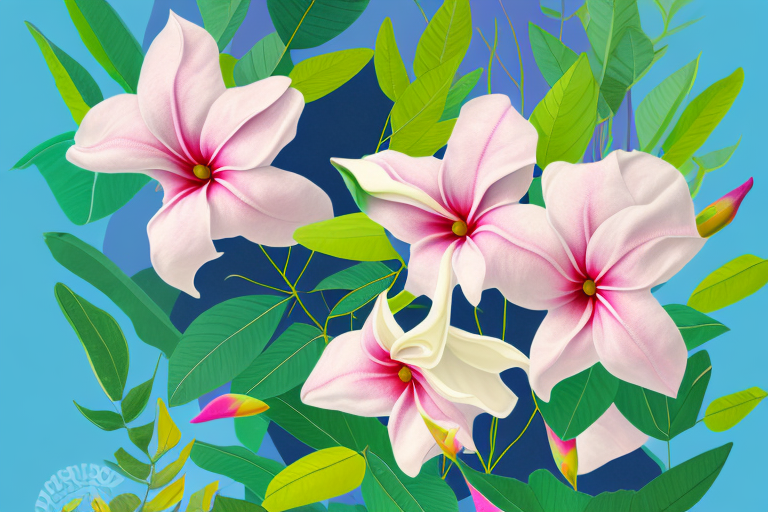 Mandevillas are stunning flowering vines that can bring a touch of tropical beauty to any outdoor space. Whether you have a small balcony or a spacious garden, growing mandevillas in containers is a fantastic way to enjoy their vibrant blooms and glossy foliage. In this article, we will dive deep into the world of mandevillas in containers, exploring everything from choosing the right container to troubleshooting common issues. So, grab a cup of tea and get ready to dive into the wonderful world of container gardening with mandevillas!
Choosing the Right Container for Mandevillas
When it comes to selecting a container for your mandevillas, there are a few important factors to consider. First and foremost, size matters. Mandevillas have a vigorous growth habit, so you'll want to choose a container that is at least 12 to 16 inches deep and wide. This will provide enough space for the roots to spread and promote healthy growth. Additionally, opt for a container that has drainage holes to prevent waterlogging, as mandevillas prefer well-draining soil. Lastly, consider the material of the container. While most materials, such as clay, plastic, or wood, will work fine, keep in mind that dark-colored containers tend to absorb more heat, which can impact the health of your plant in warm climates.
The Best Soil Mix for Container-Grown Mandevillas
Creating the ideal soil mix for your mandevilla containers is crucial for their overall health and vitality. A well-draining potting mix is key. You can create your own by combining equal parts of peat moss, perlite, and vermiculite. This mix will provide excellent drainage while retaining enough moisture for the plant's needs. Additionally, consider adding compost or organic matter to enrich the soil and promote healthy growth. Remember to refresh the soil mix every year or so to replenish nutrients and maintain optimal conditions.
Selecting the Ideal Location for Your Mandevilla Containers
When it comes to the location of your mandevilla containers, there are a few factors to keep in mind. Firstly, mandevillas thrive in full sun, so choose a spot that receives at least six hours of direct sunlight per day. This will ensure strong growth and abundant blooms. Secondly, consider the climate in your area. Mandevillas are tropical plants and are generally not frost-tolerant. If you live in a region with cold winters, it's best to bring your mandevillas indoors or provide them with some protection during the colder months. Lastly, consider the airflow and wind exposure. While mandevillas enjoy a gentle breeze, strong winds can damage their delicate foliage. If your location is prone to strong winds, consider using windbreaks or placing the container in a sheltered area.
How to Properly Plant Mandevillas in Containers
Now that you have the right container and soil mix, it's time to plant your mandevillas! Start by partially filling the container with the prepared potting mix. Gently remove the mandevilla from its nursery pot, being careful not to damage the roots. Place the plant in the center of the container and add more potting mix around it, gently firming it down to eliminate air pockets. Allow a small gap between the soil and the rim of the container to make watering easier. Lastly, give the plant a thorough watering to settle the soil and ensure good root-to-soil contact. Congratulations, you've successfully planted your mandevilla in a container!
Watering Tips for Maintaining Healthy Mandevilla Containers
Watering is a critical aspect of mandevilla container care. These plants prefer moist but not soggy soil. A good rule of thumb is to water the plant when the top inch of soil feels dry to the touch. When watering, aim to thoroughly moisten the soil, allowing excess water to drain out through the bottom of the container. Avoid overwatering, as this can lead to root rot and other issues. During hot summer months, you may need to water your mandevillas more frequently, and in cooler seasons, adjust your watering routine accordingly. Always remember to water the base of the plant, avoiding wetting the foliage, as this can contribute to disease development.
Fertilizing Mandevillas in Containers: Dos and Don'ts
Proper fertilization is essential for the healthy growth and abundant blooms of mandevillas. Start by feeding your container-grown mandevillas with a balanced slow-release fertilizer at planting time. This will provide a steady supply of nutrients over an extended period. Additionally, you can supplement with a water-soluble fertilizer every two weeks during the growing season for an extra boost. However, it's important not to over-fertilize, as this can lead to excessive foliage growth at the expense of blooms. Always follow the package instructions for proper application. Lastly, avoid fertilizing during the dormant period and reduce feeding in fall as the plant prepares for winter rest.
Pruning Techniques for Container-Grown Mandevillas
Regular pruning is essential to keep your mandevilla containers looking their best and encourage compact growth. Prune your mandevillas in early spring before new growth starts. Remove any dead, diseased, or damaged stems, as well as any crossing or rubbing branches. You can also prune for shape, cutting back long stems to promote branching and create a bushier plant. Throughout the growing season, pinch back the tips of the vines to encourage lateral growth and a fuller appearance. Remember to use clean, sharp pruning tools to make clean cuts and minimize damage to the plant.
Preventing Pests and Diseases in Mandevilla Containers
Mandevillas grown in containers are generally less prone to pests and diseases compared to those grown in the ground. However, it's still important to be vigilant and take preventive measures. Inspect your plants regularly for signs of common pests like aphids, mealybugs, or spider mites. If you notice any infestations, treat them promptly with insecticidal soap or neem oil. Additionally, ensure good air circulation around your containers, as this will help prevent fungal diseases such as powdery mildew or black spot. Avoid overhead watering and remove any fallen leaves promptly. With proper care and attention, you can keep your mandevilla containers pest and disease-free!
Overwintering Mandevillas in Containers: A Step-by-Step Guide
For those living in colder climates, overwintering your mandevillas becomes necessary to protect them from frost damage. In late fall, before the first frost, bring your containerized mandevillas indoors. Choose a cool, bright location, such as a sunroom or a well-lit window. Reduce watering and cease fertilization during this period. Trim back your mandevilla plant by about one-third to reduce its size and facilitate easier indoor care. Check the plant regularly for pests or disease symptoms and take appropriate action. In early spring, as temperatures begin to rise, gradually reintroduce your mandevilla to outdoor conditions, starting with a few hours of sunlight exposure and increasing the duration over several days. This will help acclimate the plant to the brighter and warmer conditions outdoors.
Styling Ideas and Complementary Plants for Containerized Mandevillas
Mandevillas are stunning plants that can be used to create various captivating displays in your container garden. Pair them with other sun-loving annuals, such as petunias, verbena, or lantana, for a burst of color and texture. Consider mixing different mandevilla varieties to create a vibrant and visually appealing arrangement. Another fantastic option is to grow mandevillas with climbing plants like morning glories or clematis. The combination of intertwining vines and luscious blooms will add a touch of whimsy to your garden. Experiment with different container styles and colors to create a visually striking display that showcases the beauty of your mandevillas.
Troubleshooting Common Issues with Mandevillas in Containers
While mandevillas are generally easy to care for, they can occasionally face certain issues. One common problem is yellowing leaves, which can be a sign of overwatering, nutrient deficiencies, or even pests. Adjust your watering routine and ensure proper fertilization to address these issues. If your mandevillas are not blooming as expected, it may be due to insufficient sunlight or over-fertilization. Move the plant to a sunnier location and adjust your fertilizer application. If you notice any signs of pests or diseases, take immediate action to prevent further damage. Regular inspection, proper care, and prompt treatment will help you overcome any challenges and keep your mandevillas thriving!
Transplanting Mandevilla from Containers to Ground: When and How to Do It
If you desire to transplant your mandevilla from a container to the ground, timing is crucial. Wait until all danger of frost has passed and the soil has warmed up in spring. Choose a well-draining location with full sun exposure. Dig a hole that is wider and deeper than the root ball of your mandevilla. Carefully remove the plant from the container, gently loosening the roots if they are tightly bound. Place the mandevilla in the hole, ensuring that the top of the root ball is level with the ground. Backfill the hole with soil, firming it gently around the plant. Water thoroughly to settle the soil. Provide support, such as a trellis or stakes, if needed. Remember to water regularly until the plant is established.
Creating a Stunning Display with Hanging Baskets of Mandevilla
One of the most enchanting ways to showcase mandevillas in containers is by growing them in hanging baskets. The cascading vines and abundant blooms will add a vertical dimension to your garden and create a stunning focal point. Select a hanging basket that is at least 12 inches in diameter and has proper drainage. Fill the basket with a well-draining potting mix, leaving enough space to accommodate the mandevilla. Plant the mandevilla in the center of the basket, gently firming the soil around it. Hang the basket in a location that receives full sun and water regularly to keep the soil evenly moist. As the mandevilla grows, train the vines to cascade over the sides of the basket for a dramatic effect. Prepare to be amazed by the beauty of your hanging mandevilla display!
By now, you should have a wealth of knowledge to successfully grow mandevillas in containers. From selecting the right container to overwintering and troubleshooting, we've covered it all. With a little care and attention, you can enjoy the breathtaking beauty of mandevillas right at your doorstep. So go ahead, unleash your inner gardener, and create a stunning container garden filled with the vibrant colors and tropical allure of mandevillas. Happy gardening!