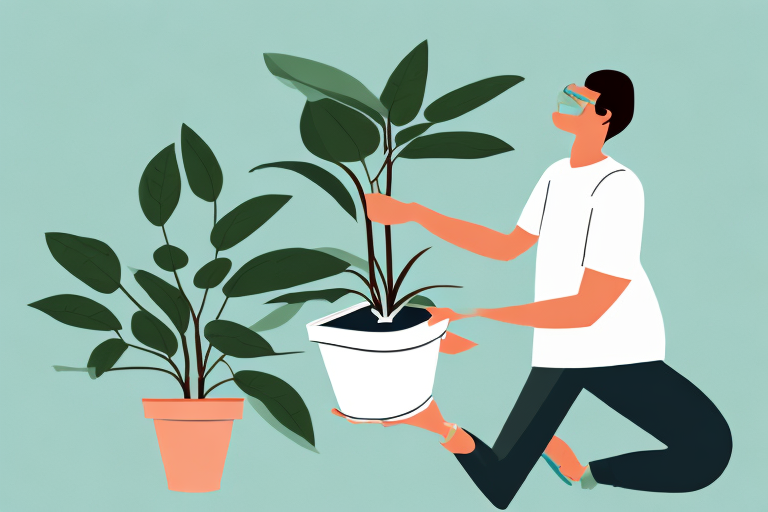 Mandevilla is a stunning flowering plant that can bring a tropical vibe to any garden or indoor space. However, as it grows, it eventually outgrows its current pot and needs to be repotted. In this article, we will guide you through the process of repotting Mandevilla, covering everything from signs it's time for a new pot to essential care tips after repotting. So, grab your gardening gloves and let's dive in!
When to repot Mandevilla: Signs it's time for a new pot
Knowing when to repot your Mandevilla is crucial to its health and growth. There are several signs that indicate it's time for a new pot. Firstly, if you notice roots growing out of the drainage holes or circling around the bottom of the pot, it's a clear sign that your Mandevilla needs more space. Additionally, if the plant becomes top-heavy and starts leaning to one side, it's an indication that the pot can no longer support its size. Lastly, if you notice a decline in growth or the plant's overall health, it may be a result of being rootbound. Repotting can provide the plant with fresh soil and room to spread its roots, promoting healthy growth and development.
Another sign that it's time to repot your Mandevilla is if you notice the soil drying out quickly after watering. This could indicate that the current pot is not holding enough moisture for the plant's needs, and repotting into a larger pot with more soil volume can help retain moisture for longer periods.
Furthermore, if you observe the plant becoming crowded and overcrowded in its current pot, with leaves and stems overlapping or touching each other, it's a clear indication that the Mandevilla needs more space to thrive. Repotting into a larger pot will allow the plant to spread out and grow more freely, preventing competition for resources among its own foliage.
Choosing the right pot for Mandevilla: Size, material, and drainage considerations
When selecting a new pot for your Mandevilla, there are a few considerations to keep in mind. Firstly, choose a pot that is one to two sizes larger than the current one. This will provide enough space for the plant's roots to grow without overwhelming them. Additionally, consider the material of the pot. Terracotta pots, while aesthetically pleasing, can dry out quickly and may require more frequent watering. Plastic pots, on the other hand, retain moisture better. Ensure that the chosen pot has proper drainage holes to prevent waterlogging, as Mandevilla plants prefer well-draining soil.
Another important factor to consider when choosing a pot for your Mandevilla is the weight of the pot. If you plan on moving your plant frequently or if you have limited strength, it may be best to opt for a lightweight pot made of materials such as plastic or fiberglass. These pots are easier to handle and transport compared to heavier options like ceramic or stone pots.
In addition to the size and material of the pot, it is also worth considering the shape of the pot. Mandevilla plants have a tendency to grow tall and vine-like, so a taller pot with a trellis or support system can help provide stability and encourage upward growth. Alternatively, if you prefer a more compact and bushy appearance, a wider and shallower pot can help promote lateral growth.
Selecting the perfect soil mix for repotting Mandevilla
The right soil mix is essential for the successful repotting of your Mandevilla. Aim for a well-draining mixture that retains moisture without becoming waterlogged. A recommended blend is equal parts peat moss or coconut coir, perlite, and potting soil. This combination provides adequate aeration and drainage, preventing the roots from sitting in water. Additionally, adding a slow-release fertilizer to the soil mix can provide nutrients to the plant over time, promoting healthy growth.
When selecting potting soil for your Mandevilla, it's important to consider the pH level of the mix. Mandevillas prefer slightly acidic soil with a pH range of 5.5 to 6.5. To achieve the ideal pH, you can add organic matter such as compost or pine bark to the soil mix. These amendments can help lower the pH and create a more suitable environment for your Mandevilla to thrive. Remember to regularly monitor the pH level of the soil and make adjustments as needed to ensure optimal growing conditions for your plant.
Step-by-step guide to repotting Mandevilla: A beginner's tutorial
Now that you have all the necessary tools and materials, let's walk through the step-by-step process of repotting your Mandevilla.
Start by preparing your plant for repotting. This involves pruning any dead or damaged foliage and inspecting the roots for any signs of disease or pests. Trim any excessively long or circling roots to encourage healthy growth.
Gently tap the current pot to loosen the root ball. Then, hold the plant at its base and carefully remove it from the pot, supporting the soil around the roots to minimize damage.
Inspect the root ball and gently tease out any tangled or circling roots. This will encourage new root growth and prevent future rootbound issues.
Place a layer of fresh potting mix at the bottom of the new pot, ensuring it covers the drainage holes. This will prevent soil from escaping while allowing excess water to drain.
Position your Mandevilla in the center of the pot, making sure it sits at the same height as it did in the previous pot. Avoid burying the stem too deep, as it may lead to rotting.
Add the remaining potting mix around the root ball, gently pressing it down to secure the plant. Fill the pot until it's approximately an inch below the rim, leaving room for watering.
Once repotted, thoroughly water the Mandevilla until water drains out of the bottom of the pot. This will settle the soil and help the plant establish in its new home.
After repotting your Mandevilla, it's important to provide proper care to ensure its health and growth. Here are a few tips:
Place the repotted Mandevilla in a location that receives bright, indirect sunlight. Avoid placing it in direct sunlight, as it can scorch the leaves.
Water the plant regularly, keeping the soil evenly moist but not waterlogged. Check the moisture level by inserting your finger into the soil about an inch deep. If it feels dry, it's time to water.
Fertilize the Mandevilla every two weeks during the growing season with a balanced, water-soluble fertilizer. This will provide the necessary nutrients for healthy foliage and vibrant blooms.
Prune the plant as needed to maintain its shape and encourage bushier growth. Remove any dead or yellowing leaves, as well as spent flowers, to promote continuous blooming.
Monitor the plant for any signs of pests or diseases, such as aphids or powdery mildew. If detected, take appropriate measures to control and treat the issue.
By following these care instructions, your repotted Mandevilla will thrive and bring beauty to your indoor or outdoor space.