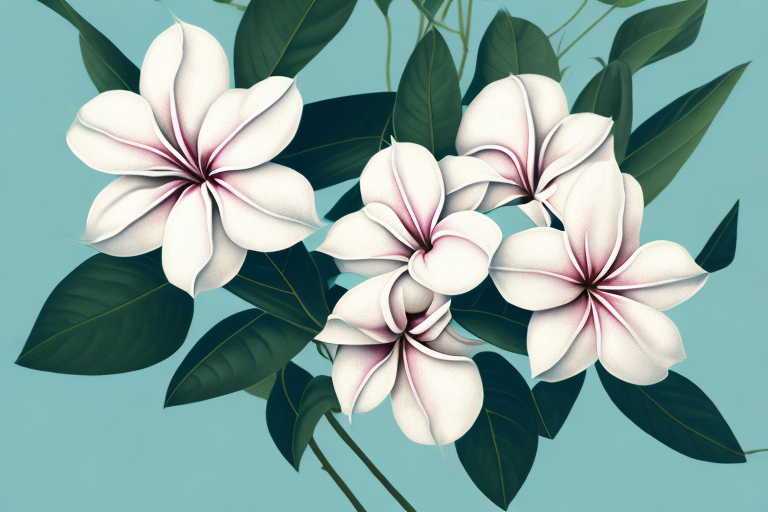 Mandevilla plants are known for their stunning beauty and tropical flair, and while they may not be native to Michigan, that doesn't mean you can't successfully grow them in the Great Lakes State. In fact, with the right care and attention, Mandevilla can thrive and add a touch of exotic elegance to your Michigan garden. In this article, we will explore everything you need to know about growing Mandevilla in Michigan, from ideal climate conditions to choosing the right varieties, and overcoming common challenges.
The Ideal Climate for Mandevilla Plants
Before diving into the specifics of growing Mandevilla in Michigan, it's essential to understand the ideal climate conditions for these beautiful plants. Mandevilla thrives in warm tropical climates, but with some precautions, they can adapt and thrive in Michigan's slightly cooler climate. These plants love sunshine and warmth, so it's important to choose a sunny spot in your garden that receives at least six hours of direct sunlight each day. Additionally, Mandevilla prefers temperatures between 70 and 90 degrees Fahrenheit, making the summer months ideal for their growth. While Michigan's summers can be hot, it's crucial to protect your Mandevilla plants from extreme heat or cold by providing them with adequate shade or shelter when needed.
Exploring the Beauty of Mandevilla Flowers
One of the most alluring aspects of Mandevilla plants is their stunning flowers. These vibrant blooms come in a variety of colors, including shades of red, pink, white, and yellow, adding a pop of color to any garden. The trumpet-shaped flowers of Mandevilla are not only visually stunning but also emit a sweet, delicate fragrance that will surely captivate your senses. Whether you choose the classic red Mandevilla or the graceful white variety, these flowers will undoubtedly become a focal point in your Michigan garden, attracting butterflies and hummingbirds with their nectar-rich blooms.
How to Successfully Grow Mandevilla in Michigan
While Michigan's climate may pose some challenges for growing Mandevilla, with the right care and attention, you can successfully cultivate these beautiful plants in your garden. Start by ensuring you choose healthy, well-established Mandevilla plants from a reputable nursery or garden center. Plant them in a well-draining soil mix enriched with organic matter to provide them with the nutrients they need to thrive. Remember to water your Mandevilla regularly, keeping the soil moist but not overly saturated. Add a layer of mulch around the base of the plant to help retain moisture and suppress weed growth.
When it comes to fertilizing Mandevilla, a balanced water-soluble fertilizer works best. Apply a diluted fertilizer every two weeks during the growing season. Be cautious not to over-fertilize, as that can lead to excessive foliage growth at the expense of flower production. Pruning is another crucial aspect of Mandevilla care. Regularly trim back any dead or damaged branches to encourage new growth and maintain the desired shape of the plant. If you live in a region with colder winters, consider bringing your Mandevilla indoors or providing it with protection during the colder months to ensure its survival.
Choosing the Right Mandevilla Varieties for Michigan Gardens
When selecting Mandevilla varieties for your Michigan garden, it's essential to consider their cold hardiness. While some varieties are more adaptable to cooler climates, others may require extra care and protection during the winter months. Popular cold-hardy Mandevilla varieties for Michigan include "Alice du Pont," "White Mandevilla," and "Sun Parasol Crimson." These varieties have proven to withstand Michigan's climate and continue to thrive year after year. Consult with local experts or nurseries to find the best Mandevilla varieties suited for your specific location and desired aesthetic.
Expert Tips for Caring for Mandevilla Plants in Michigan
For Michigan gardeners looking to care for Mandevilla plants, here are some expert tips to help you along the way:
Provide adequate support: Mandevilla plants are vigorous climbers, so it's essential to provide them with trellises or supports to prevent damage to their delicate vines.
Monitor humidity levels: Michigan's humidity levels can vary, so it's important to monitor the moisture levels around your Mandevilla plants. Consider using a humidifier or misting them regularly to maintain the ideal humidity.
Protect from pests: Mandevilla plants can attract aphids, spider mites, and whiteflies. Regularly inspect your plants for any signs of infestation and take appropriate measures to control pests, such as using insecticidal soap or neem oil.
Keep an eye on watering: While Mandevilla plants enjoy moist soil, overwatering can lead to root rot. Ensure proper drainage and only water when the top inch of soil feels dry to the touch.
Take precautions during winter: If you live in an area with harsh winters, consider bringing your Mandevilla indoors or providing it with a protective covering, such as burlap, to shield it from freezing temperatures.
The Benefits of Growing Mandevilla in Michigan Gardens
Growing Mandevilla in your Michigan garden offers numerous benefits beyond their stunning beauty. These tropical plants can create a sense of paradise and tranquility in your outdoor space, transporting you to a sun-drenched oasis. The vibrant flowers attract pollinators, ensuring a healthy ecosystem in your garden. Furthermore, incorporating Mandevilla into your landscape design can provide vertical interest and add visual appeal to garden borders, trellises, or pergolas. The versatility and elegance of these plants make them a valuable addition to any Michigan garden.
Enhancing your Garden with Mandevilla: A Guide for Michigan Gardeners
If you are looking to enhance your Michigan garden with the enchanting beauty of Mandevilla plants, here are some creative ideas to inspire you:
Create a vertical garden: Use trellises or arbors to support multiple Mandevilla plants, creating a lush vertical garden that adds height and drama to your outdoor space.
Design a colorful border: Plant Mandevilla along garden borders, combining different colors for a striking floral display. Pair them with complementary annuals or perennials to create a visually appealing and harmonious border.
Accessorize with containers: Place Mandevilla plants in containers or hanging baskets to add a burst of color to patios, decks, or balconies. Experiment with different container sizes, shapes, and colors to create a stunning focal point.
Combine with other tropical plants: Create a tropical paradise by combining Mandevilla with other exotic plants, such as palms, banana trees, or hibiscus. The lush foliage and vibrant blooms will transport you to a faraway destination right in your own backyard.
Overcoming Common Challenges in Growing Mandevilla in Michigan's Climate
While growing Mandevilla in Michigan can be rewarding, it does come with its fair share of challenges. The cooler climate and annual temperature fluctuations can put stress on these tropical plants. However, with proper care and by taking some precautions, you can overcome these challenges. Ensure your Mandevilla plants are placed in a sunny location with adequate protection from extreme temperatures. Consider using frost covers or bringing them indoors during colder days/nights. Regularly monitor your plants for signs of stress, such as wilting or yellowing leaves, and adjust your care routine accordingly. Remember, each garden is unique, and it may take some trial and error to find the best approach for your specific location.
Creating Stunning Displays with Mandevilla in Michigan Landscapes
Whether you have a small balcony, a cozy courtyard, or a spacious backyard, Mandevilla can be used to create stunning displays in your Michigan landscape. Here are some ideas to inspire you in designing your dream garden:
Plant them as a centerpiece: Use Mandevilla as a centerpiece in a flower bed or raised planter. Pair them with perennial plants of varying heights to create depth and texture.
Integrate them into existing landscapes: Incorporate Mandevilla into existing gardens or landscapes, allowing them to intertwine with other plants and create a harmonious composition.
Create a tropical-themed garden: Design a dedicated tropical garden area using Mandevilla as the star attraction. Combine them with lush foliage plants, like cannas and elephant ears, to create a tropical paradise right in your Michigan backyard.
Transforming Your Outdoor Space with Vibrant Mandevilla Vines in Michigan
When it comes to transforming your outdoor space, few plants can rival the impact of vibrant Mandevilla vines. These climbing beauties can turn plain walls, fences, or pergolas into vertical gardens bursting with color. By allowing Mandevilla vines to climb, you can add vertical interest and texture to your Michigan landscape. Consider training them on trellises or wire supports, guiding their growth pattern to create a stunning focal point in your garden. Whether you choose to let them sprawl across a fence or create an archway of blossoms, the possibilities are endless.
From Seed to Blooms: The Journey of Mandevilla Plants in Michigan Gardens
While purchasing established Mandevilla plants is the most common method, some gardeners may enjoy the journey of growing these plants from seed. Starting Mandevilla from seeds in Michigan can be a rewarding experience but requires patience and specific care. Begin by soaking the seeds in warm water for a few hours to aid germination. Plant the seeds in a high-quality potting mix and keep them warm and moist. Provide them with sufficient light and ideally maintain a temperature of around 70 to 85 degrees Fahrenheit. With time and proper care, the seeds will germinate, and you'll witness the growth of beautiful Mandevilla plants in your Michigan garden.
Inspiring Ideas for Incorporating Mandevilla into your Michigan Garden Design
Mandevilla offers endless possibilities for incorporating them into your Michigan garden design. Here are some inspiring ideas to spark your creativity:
Create a Mandevilla archway: Allow Mandevilla vines to climb and intertwine over an archway, creating a romantic entryway into your garden.
Add pops of color to a monochromatic garden: If your garden is predominantly green, use Mandevilla's vibrant flowers to add pops of color and create focal points throughout the space.
Plant them near seating areas: Place Mandevilla near your outdoor seating areas to enjoy their beautiful blooms up close and revel in their captivating fragrance.
Mix and match colors: Experiment with different Mandevilla colors and varieties to create unique color combinations and visual interest within your garden beds or containers.
The Magic of Mandevilla: Adding Tropical Flair to Your Michigan Garden
One of the magical aspects of Mandevilla is its ability to add a touch of tropical flair to even the most northern gardens, like those in Michigan. With their lush foliage and extravagant blooms, these plants have the power to transport you to warmer climates. By incorporating Mandevilla into your Michigan garden, you can create a little piece of paradise right at home. Whether you choose to grow them in containers, use them to adorn your pergola, or allow them to climb up trellises, the presence of Mandevilla will infuse your outdoor space with vibrant colors, delightful scents, and undeniable tropical charm.
Showcasing the Versatility of Mandevilla in Containers and Hanging Baskets
One of the remarkable aspects of Mandevilla is their versatility when it comes to container gardening. These plants thrive in containers and hanging baskets and can survive and flourish even in limited garden space. Whether you have a small balcony or a tiny courtyard, you can easily enjoy the beauty of Mandevilla plants. Choose a container with good drainage and use a well-draining potting mix. While Mandevilla prefers a slightly acidic soil pH, it can adapt to different soil conditions. Water your container-grown Mandevilla regularly, ensuring the soil remains consistently moist. Remember to fertilize regularly with a balanced liquid fertilizer to support healthy growth and abundant blooms. With proper care and regular maintenance, your Mandevilla will cascade gracefully from hanging baskets or create a striking focal point in your container garden.
In conclusion, while Michigan's climate may not be ideal for tropical plants like Mandevilla, with the right care and attention, you can successfully grow these stunning vines in your Michigan garden. From choosing the right varieties to providing the ideal growing conditions, Mandevilla has the potential to add a touch of exotic elegance to your landscape. By following expert tips and ideas for incorporating Mandevilla into your Michigan garden design, you can create a vibrant and enchanting outdoor space that will transport you to a tropical paradise right at home. So, roll up your sleeves, get your gardening tools ready, and embark on the journey of growing Mandevilla in Michigan. Your garden will thank you with a profusion of vibrant blooms and a touch of tropical magic!