How to Deadhead Mandevilla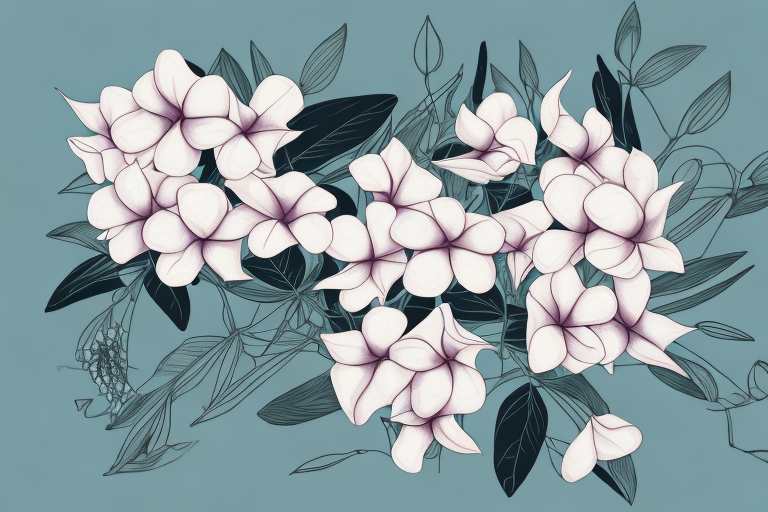 Welcome to our comprehensive guide on how to deadhead mandevilla plants! If you want to enhance the growth and blooming of your mandevilla, you've come to the right place. In this article, we will delve into the importance of deadheading mandevilla, the benefits it offers, the tools you'll need, the best time to do it, common mistakes to avoid, and much more. So grab your gardening gloves and let's get started!
Why Deadheading Mandevilla is Important for Growth and Blooming
The process of deadheading mandevilla is not only a simple task, but it is also vital for promoting healthy growth and abundant blooming. By removing faded and spent flowers, you allow the plant to redirect its energy towards new growth rather than wasting it on seed production. This encourages the development of more buds and ultimately results in a longer blooming period.
In addition to extending the blooming season, deadheading can improve the overall appearance of your mandevilla plant by preventing it from becoming leggy or untidy. Regular deadheading encourages a compact and bushy growth habit, making your mandevilla more visually appealing.
The Benefits of Deadheading Mandevilla Plants
Deadheading mandevilla plants offers a multitude of benefits. Apart from stimulating more prolific blooming and maintaining an attractive appearance, it also promotes better air circulation and reduces the risk of diseases such as powdery mildew. Additionally, removing spent flowers prevents the plant from self-seeding, thereby keeping it under control and preventing potential invasive issues in your garden.
Understanding the Life Cycle of Mandevilla Flowers
Before diving into the process of deadheading, it is essential to understand the life cycle of mandevilla flowers. Each flower goes through several stages, starting with the bud, followed by full bloom, and finally, the decline of the blossom. By paying attention to these stages, you can determine the ideal time for deadheading.
Once a mandevilla flower has bloomed, it will begin to fade, losing its vibrant color and freshness. At this point, it is important to monitor the progress of the flower and remove it once it starts to wither and decline. By doing this, you enable the plant to focus on producing new blooms rather than nourishing dying ones.
Tools and Equipment Needed for Deadheading Mandevilla
Deadheading mandevilla plants requires minimal tools and equipment. All you need is a pair of sharp pruning shears or scissors and a clean cloth or hand sanitizer for sterilization. Before starting, it is crucial to sanitize your tools to prevent the spread of any potential diseases or pests.
When choosing pruning shears, opt for a pair with a bypass cutting mechanism, as they provide a clean and precise cut without damaging surrounding plant tissue. Ensure that your shears are sharp, as dull tools can crush stems and make clean cuts difficult.
Step-by-Step Guide to Deadheading Mandevilla Plants
Now that you have gathered your tools, let's walk through the step-by-step process of deadheading your mandevilla plants:
Carefully inspect the plant and identify the faded or spent flowers.
Locate the juncture or "node" just above the first set of healthy leaves below the faded flower.
Position your pruning shears at a 45-degree angle and make a clean cut just above the node, ensuring not to damage any new buds or stems.
Collect the deadheaded flowers and dispose of them properly to prevent the spread of diseases or pests.
Repeat the process for each faded or spent flower, always cutting just above a node.
Once you have finished deadheading, take a moment to admire your rejuvenated mandevilla plant!
When is the Best Time to Deadhead Mandevilla?
The optimal time to deadhead mandevilla is when the flowers have completed their bloom cycle and are visibly fading or wilting. It is crucial to remove them promptly and not wait until they have completely withered. Regular deadheading throughout the blooming season ensures continuous flower production and prevents the plant from diverting energy to seed production.
However, it is important to note that mandevilla plants have different blooming patterns depending on the variety and growing conditions. Some varieties may have non-stop, continuous blooming, while others may experience intermittent periods of rest. Observe your mandevilla regularly to determine the best time to deadhead based on its specific flowering behavior.
Common Mistakes to Avoid When Deadheading Mandevilla
While deadheading mandevilla is a relatively simple task, there are a few common mistakes you should avoid to ensure optimal results:
Over-pruning: Be cautious not to overdo it and prune excessively. Removing too many healthy leaves or stems can harm the plant and hinder its growth.
Improper cutting technique: Always make clean cuts just above the healthy set of leaves or node, as improper cutting can lead to open wounds that are susceptible to diseases.
Delaying deadheading: Don't wait too long to deadhead faded flowers. Prompt removal is key to stimulate new growth and maintain the overall health of your mandevilla.
Tips for Properly Disposing of Deadheaded Mandevilla Flowers
Proper disposal of deadheaded mandevilla flowers is essential to prevent the spread of diseases and pests. Here are a few tips to ensure proper disposal:
Bagging and binning: Collect the deadheaded flowers in a plastic bag and dispose of them in the trash bin. This prevents any plant material from contaminating compost piles or spreading diseases.
No composting: Avoid adding deadheaded mandevilla flowers to your compost heap, as this can potentially introduce diseases or pests into the composting process.
Sanitize tools: After deadheading, remember to sanitize your pruning shears or scissors using a disinfectant or a mixture of water and bleach to prevent the transfer of any pathogens.
How Often Should You Deadhead Mandevilla Plants?
The frequency of deadheading mandevilla plants depends on the blooming pattern of the specific variety you are growing. Some mandevilla plants require deadheading every few days, while others may only need it once a week. A general rule of thumb is to deadhead whenever you notice faded flowers or the overall appearance of the plant is declining.
By staying attentive to your mandevilla's blooming cycle and promptly removing spent flowers, you will encourage continuous blooming and maintain a vibrant and healthy plant throughout the season.
The Effect of Deadheading on the Overall Health of Mandevilla Plants
Deadheading mandevilla flowers not only enhances their visual appeal but also has a positive impact on the overall health of the plant. By removing faded flowers, you prevent the plant from putting energy into seed production, allowing it to allocate resources towards new growth and encourage better nutrient absorption.
Additionally, deadheading improves air circulation around the plant, reducing the risk of fungal infections and encourages the development of strong, new stems and leaves.
Promoting Reblooming by Deadheading Mandevilla Flowers
One of the major benefits of deadheading mandevilla flowers is its ability to promote reblooming. By continuously removing faded flowers, you signal to the plant that it should focus on producing new blooms rather than allocating energy to seed production.
Regular deadheading encourages a continuous cycle of blossoms, resulting in a longer blooming period and an abundance of colorful flowers throughout the growing season. Remember, the more you deadhead, the more your mandevilla will reward you with vibrant blooms!
Alternative Methods to Deadhead Mandevilla Plants
In addition to traditional deadheading methods, there are alternative approaches you can explore to remove faded flowers from your mandevilla:
Pinching: Instead of cutting the stem above a node, you can pinch off the faded flower using your fingers. This method can be useful for delicate varieties or situations where pruning shears may not be readily available.
Trimming: If your mandevilla plant has become leggy or overgrown, you can perform a more extensive pruning to remove both the faded flowers and excessive vegetative growth. This method is best suited for rejuvenating older or straggly mandevilla plants.
Troubleshooting Common Issues with Deadheading Mandevilla
While deadheading mandevilla plants is generally straightforward, you may encounter a few common issues along the way. Here are some troubleshooting tips:
Stubborn faded flowers: If a faded flower is difficult to remove, it is likely due to a weak stem or improper cut. Take your time and ensure you position your pruning shears correctly above the node before making the cut.
No new blooms: If your mandevilla is not producing new blooms despite regular deadheading, check for any environmental factors such as insufficient sunlight, limited access to nutrients, or water stress. Adjust the plant's growing conditions accordingly to encourage flower production.
Yellowing leaves: Yellowing leaves can be a sign of nutrient deficiencies or overwatering. Ensure your mandevilla is receiving adequate nutrition and maintain proper watering practices to prevent leaf yellowing.
How to Prune and Deadhead Your Mandevilla for Optimal Results
Pruning and deadheading go hand in hand when it comes to maintaining healthy and blooming mandevilla plants. While we have mainly focused on deadheading in this article, it is important to touch on the benefits of occasional pruning.
Pruning your mandevilla can help manage its size, shape, and improve overall form. By selectively trimming back long, leggy stems, you stimulate branching and create a more compact and balanced plant. Additionally, pruning can remove any damaged or diseased growth, promoting overall plant health.
When pruning, follow similar principles to deadheading, making sure to use sharp shears and clean cuts. Remove any unwanted or crossing stems, and adjust the overall shape of the plant to your desired form.
A Beginner's Guide to Deadheading Mandevilla Flowers
If you are new to gardening or have recently added mandevilla to your collection of plants, deadheading may seem like a daunting task. However, with a little practice and patience, you'll quickly become proficient. Remember, deadheading is an art form that requires observation, timing, and attention to detail.
Start by observing your mandevilla's blooming patterns and gradually familiarize yourself with the various stages of flower growth. Once you become confident in identifying faded flowers, follow our step-by-step guide and incorporate deadheading into your regular plant care routine. Your mandevilla will reward you with a vibrant display of blossoms and an enviable garden.
We hope this comprehensive guide has provided you with valuable insights on how to deadhead your mandevilla plants. By practicing regular deadheading and employing the tips and techniques mentioned, you'll be well on your way to having flourishing, blooming mandevilla plants that will be the envy of every gardener.
Remember, deadheading is not only about enhancing the visual appeal, but it also contributes to the overall health and longevity of your mandevilla plants. So, grab your tools, enjoy the therapeutic nature of gardening, and embrace the rewarding process of deadheading mandevilla!