Are Mandevilla Poisonous to Dogs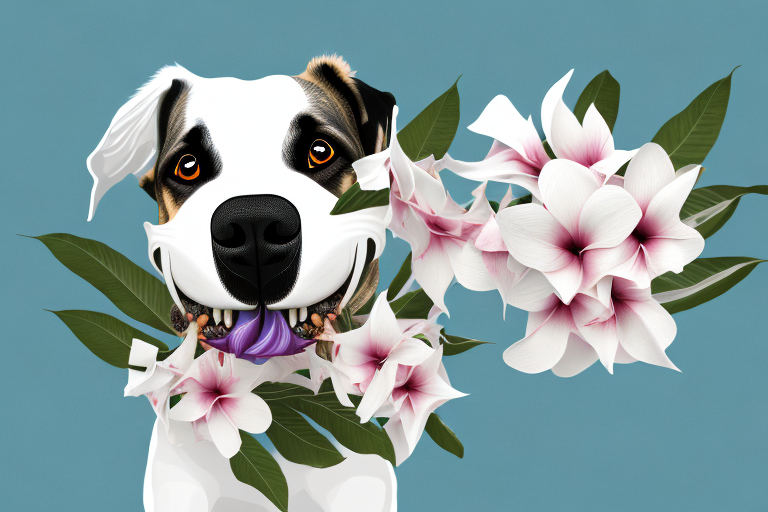 Mandevilla plants, known for their vibrant and beautiful blooms, have become a popular choice for many garden enthusiasts. However, when it comes to the safety of our furry friends, it is crucial to be aware of any potential dangers lurking in our gardens. In this article, we will delve into the topic of whether Mandevilla plants are poisonous to dogs, helping you understand the risks and take necessary precautions to keep your canine companions safe.
Understanding the Potential Dangers of Mandevilla Plants for Dogs
Mandevilla plants belong to the Apocynaceae family and are native to South America. While these plants can add a touch of elegance to our outdoor spaces, it is essential to note that they contain toxic substances that can be harmful to dogs if ingested. The exact level of toxicity can vary depending on the specific variety of Mandevilla and the amount ingested by the dog.
A common misconception is that only certain parts of the Mandevilla plant are poisonous to dogs. The reality is that the entire plant, including its leaves, stems, flowers, and even the sap, can pose a risk to our canine friends. It is vital to understand that even a small amount ingested can lead to adverse health effects.
Identifying the Common Symptoms of Mandevilla Poisoning in Dogs
When a dog ingests any part of a Mandevilla plant, it is crucial to be vigilant and watch for any signs of poisoning. The symptoms can vary depending on the dog's size, the amount ingested, and their individual sensitivity to the toxins present in the plant.
Some common symptoms of Mandevilla poisoning in dogs include:
Vomiting
Diarrhea
Excessive drooling
Loss of appetite
Abdominal pain or discomfort
Difficulty breathing
Irregular heartbeat
Weakness or lethargy
If you notice any of these symptoms in your dog after potential exposure to Mandevilla plants, it is crucial to take immediate action to prevent any further complications.
The Toxic Substances Found in Mandevilla Plants and Their Effects on Dogs
Mandevilla plants contain several toxic substances, including glycosides and saponins. These compounds can adversely affect a dog's gastrointestinal system, nervous system, and cardiovascular system.
When ingested, glycosides can cause vomiting, diarrhea, and significant discomfort in dogs. In some cases, they can also lead to heart arrhythmias, which can be life-threatening if not promptly addressed. Saponins, on the other hand, have a strong detergent effect on the gastrointestinal tract, resulting in vomiting and diarrhea.
It is important to note that while Mandevilla poisoning can be severe, some dogs may only experience mild symptoms. However, it is always better to err on the side of caution and seek veterinary care if you suspect your dog has ingested any part of a Mandevilla plant.
What to Do If Your Dog Ingests Mandevilla Plant Parts
If you catch your dog in the act of chewing or ingesting any part of a Mandevilla plant, it is crucial to intervene immediately. Here are the steps you should take:
Remove your dog from the area where the exposure occurred to prevent further ingestion.
Check your dog's mouth and remove any plant material or residue to minimize further absorption of the toxins.
If your dog has vomited, collect a sample of the vomit for the veterinarian to analyze.
Contact your veterinarian or an animal poison control center for guidance and follow their instructions carefully.
Time is of the essence in such situations, and the prompt action you take can significantly impact your dog's well-being.
Emergency First Aid Measures for Dogs Exposed to Mandevilla Toxins
While waiting for professional guidance, there are a few first aid measures you can take to help your dog:
Offer your dog small amounts of water to help dilute and flush out any toxins.
If your dog is experiencing excessive drooling or mouth irritation, you can gently rinse their mouth with water to provide relief.
Keep your dog calm and comfortable, as stress can further exacerbate the symptoms.
It is important to remember that these first aid measures are temporary solutions and should not replace veterinary care. Always consult with a professional to ensure proper treatment.
When to Seek Veterinary Care for a Dog Exposed to Mandevilla Poisoning
Any suspected exposure to Mandevilla plants should prompt you to seek veterinary care, even if your dog is not displaying severe symptoms. A professional evaluation is essential to assess the potential toxic effects and determine the best course of action.
If your dog is exhibiting moderate to severe symptoms, immediate veterinary attention is critical. The veterinarian will be able to administer appropriate treatments, such as inducing vomiting or administering activated charcoal to absorb any remaining toxins.
Remember, never attempt to induce vomiting in your dog without professional guidance, as it may worsen their condition or lead to aspiration pneumonia.
Tips for Preventing Accidental Ingestion of Mandevilla Plants by Dogs
Prevention is always the best approach when it comes to keeping our furry friends safe. Here are some tips to prevent accidental ingestion of Mandevilla plants by dogs:
Choose dog-friendly plants when landscaping your garden. Consult with a local horticulturist or veterinarian to identify pet-safe options.
Keep your dog on a leash or supervised when exploring areas with Mandevilla plants.
Create physical barriers or barriers using fencing to restrict your dog's access to areas where Mandevilla plants are present.
Teach your dog commands such as "leave it" or "drop it" to discourage them from chewing or ingesting any plants.
Regularly inspect your garden for any fallen Mandevilla plant parts and dispose of them properly.
By implementing these precautions, you can minimize the risk of Mandevilla poisoning and create a safe environment for your dog to enjoy.
Safe Alternatives to Mandevilla Plants for Dog-Friendly Gardens
If you want to incorporate beautiful flowering plants into your dog-friendly garden, several safe alternatives exist. Consider these options:
Petunias: These colorful annual flowers are safe for dogs and add a vibrant touch to any garden.
Marigolds: Known for their pest-repellent properties, marigolds are also safe for dogs and come in various vibrant colors.
Zinnias: These easy-to-grow flowers offer a splash of color and are harmless to dogs.
Sunflowers: Not only do sunflowers brighten up any space, but their seeds can also provide a healthy treat for your furry friend.
These alternatives will allow you to create a beautiful garden while ensuring your dog's safety at the same time.
Educating Pet Owners: Spreading Awareness About the Dangers of Mandevilla for Dogs
As responsible pet owners, it is our duty to spread awareness about the potential dangers of Mandevilla plants for dogs. By educating others about the risks, we can help prevent accidents and protect our furry friends.
Consider sharing this article with fellow dog owners, participating in community events, or engaging in online forums to raise awareness about the toxicity of Mandevilla plants. Together, we can make a difference and ensure the safety and well-being of our beloved pets.
Understanding the Varieties of Mandevilla Plants and Their Relative Toxicity Levels for Dogs
It is important to note that there are different varieties of Mandevilla plants, and their relative toxicity levels may vary. Some varieties, such as Mandevilla sanderi, are considered to have higher toxicity levels compared to others.
When selecting plants for your garden, it is essential to research the specific variety you intend to purchase and evaluate its potential risks. Consulting with local experts, horticulturists, or a veterinarian can provide valuable insights into the safety of specific Mandevilla varieties.
Expert Advice on Landscaping with Pets in Mind: Choosing Pet-Safe Plants
To ensure a pet-friendly landscape, it is crucial to select plants that are safe for your furry friends. Consulting with experts in the field, such as landscape designers or horticulturists who specialize in pet-friendly gardens, can provide valuable guidance in creating a beautiful yet safe environment for your dogs.
Consider asking for recommendations for pet-safe plants that provide vibrant colors, texture, and variety while eliminating any potential risks to your dogs. Investing time in planning and choosing the right plants can result in a garden that is both visually appealing and safe for your pets to explore.
Exploring the History and Uses of Mandevilla Plants, and Their Compatibility with Canine Companions
Mandevilla plants have an interesting history and have been used for various purposes over the years. Originally discovered in South America, these plants gained popularity due to their aesthetic appeal and adaptability to different climates.
While Mandevilla plants have found their way into many gardens, it is important to evaluate their compatibility with our canine companions. By understanding their potential dangers and taking adequate precautions, we can strike a balance between our love for these plants and the safety of our furry friends.
Real-Life Cases: Stories of Dogs Affected by Mandevilla Poisoning and Their Road to Recovery
Real-life cases of dogs affected by Mandevilla poisoning serve as powerful reminders of the potential risks to our beloved pets. Stories of survival and recovery highlight the importance of swift action and proper treatment in such situations.
These narratives can not only raise awareness but also provide hope and inspiration to other pet owners facing similar challenges. They remind us of the resilience of dogs and the incredible bond we share with them.
Debunking Myths: Common Misconceptions About Mandevilla Poisoning in Dogs
As with any topic, there are often misconceptions surrounding the toxicity of Mandevilla plants for dogs. By debunking these myths, we can ensure that accurate information is available to pet owners, reducing the risks of unintentional exposure.
Some common misconceptions include the belief that only specific parts of the plant, such as the flowers, are toxic or that small amounts of exposure will not cause harm. It is important to understand that any part of the Mandevilla plant can be toxic and that even a small amount ingested can have adverse effects on dogs.
By addressing these misconceptions and providing accurate information, we can help pet owners make informed decisions and protect their furry friends from harm.
In Conclusion
While Mandevilla plants can add an enchanting touch to our gardens, it is crucial to recognize the potential dangers they pose to our dogs. Understanding the toxicity levels, common symptoms, and necessary precautions can go a long way in keeping our four-legged companions safe.
By choosing dog-friendly plants, raising awareness, and implementing preventive measures, we can create a garden that harmoniously blends beauty and safety. Let us prioritize the well-being of our canine friends and create an environment where they can thrive without exposing them to unnecessary risks.