How to Plant Mandevilla in the Ground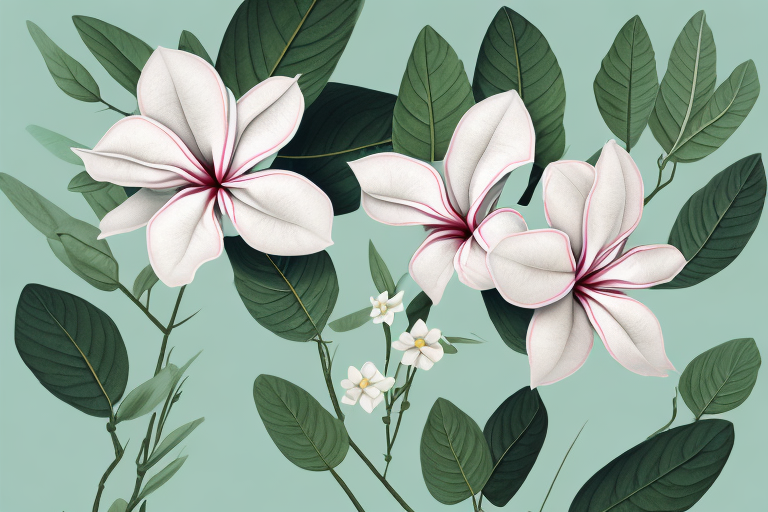 Are you looking to add a splash of vibrant color and tropical charm to your garden? Look no further than the beautiful mandevilla plant. With its stunning blooms and easy growth habits, planting mandevilla in the ground can transform your outdoor space into a picturesque oasis. In this comprehensive guide, we will walk you through each step of the process, from selecting the right location to troubleshooting common issues, so that you can successfully plant mandevilla in the ground and enjoy its splendor for years to come.
Choosing the Right Location for Mandevilla
When it comes to planting mandevilla in the ground, choosing the right location is key to its success. Mandevilla thrives in full sunlight, so select a spot in your garden that receives at least six to eight hours of direct sunlight each day. Additionally, make sure the area has well-drained soil to prevent waterlogging, which can lead to root rot. By providing the perfect combination of sunlight and soil conditions, you are setting your mandevilla up for optimal growth and blooming.
Preparing the Soil for Planting Mandevilla
Before planting your mandevilla, it is crucial to prepare the soil properly. Start by removing any weeds or debris from the area, ensuring a clean planting bed. Next, loosen the soil using a garden fork or tiller to a depth of 12 to 18 inches. This will promote root penetration and allow the plant to establish itself more effectively. If your soil is heavy or compacted, consider amending it with organic matter, such as compost or well-rotted manure, to improve drainage and fertility. By taking the time to prepare the soil, you are creating an ideal foundation for your mandevilla to thrive.
Selecting the Best Mandevilla Variety for Your Garden
With numerous mandevilla varieties available, choosing the best one for your garden may seem overwhelming. Consider factors such as the desired height, flower color, and growth habit. Some popular varieties include "Alice Dupont" with its vibrant pink flowers, "Crimson Fantasy" boasting striking red blooms, and "Snow White" offering pristine white blossoms. Consult with your local nursery or garden center to select a variety that suits your preferences and complements your existing garden design. By choosing the right mandevilla variety, you can ensure a visually stunning display of color and texture in your garden.
Understanding the Sunlight Requirements of Mandevilla
Mandevilla thrives in bright sunlight, with a minimum of six to eight hours of direct exposure per day. This tropical plant craves the warmth of the sun to fuel its growth and stimulate abundant flowering. While mandevilla can tolerate some shade, it may result in reduced blooming and leggy growth. To maximize the potential of your mandevilla and encourage its full potential, provide it with ample sunlight, and watch it glow with beauty.
Properly Watering Mandevilla Plants
Watering is a crucial aspect of mandevilla care, as improper watering can lead to root rot or excessive dryness. While mandevilla plants enjoy consistently moist soil, it is essential not to overwater them. Before watering, check the top inch of soil; if it feels dry to the touch, it's time to water your mandevilla. When watering, aim for the base of the plant, ensuring the water reaches the root zone. Avoid wetting the foliage as it can potentially lead to fungal diseases. During hot summer months, you may need to water your mandevilla more frequently to prevent dehydration. By providing the right amount of water, you are establishing optimal growing conditions for your mandevilla.
Tips for Digging the Perfect Hole for Mandevilla
When it comes to planting mandevilla in the ground, digging the perfect hole is essential for its successful establishment. Start by digging a hole that is twice as wide and just as deep as the plant's root ball. This will allow the roots to spread comfortably and penetrate the surrounding soil. Gently place the mandevilla in the hole, ensuring that it sits at the same height as it was in its nursery container. Backfill the hole with soil, firming it gently around the plant. Finally, water thoroughly to settle the soil and remove any air pockets. By taking the time to dig the perfect hole, you are providing a solid foundation for your mandevilla to grow and flourish.
The Importance of Fertilizing Mandevilla Plants
To encourage healthy growth and profuse blooming, fertilizing your mandevilla is essential. Start by incorporating a slow-release granular fertilizer into the soil at the time of planting. This will provide a steady supply of nutrients over an extended period. Throughout the growing season, apply a water-soluble balanced fertilizer every two to four weeks according to the package instructions. Avoid over-fertilization, as it can lead to excessive foliage growth at the expense of flowers. With regular fertilization, you can enhance the overall health and beauty of your mandevilla.
Transplanting Mandevilla from a Container to the Ground
If you have purchased a potted mandevilla and wish to transplant it into the ground, proper technique is key to minimizing transplant shock. Start by selecting a location that meets the sunlight and soil requirements outlined earlier. Dig a hole slightly larger than the root ball of the mandevilla, ensuring it will fit comfortably without bending or crowding the roots. Carefully remove the mandevilla from its container, gently loosening the roots if they appear to be circling. Place the plant in the hole, backfill with soil, and water thoroughly. Finally, provide support for the mandevilla if needed, such as a trellis or stakes, to encourage proper growth. By transplanting your mandevilla with care, you are giving it the best chance at a smooth transition into the ground.
Protecting Mandevilla from Frost and Cold Temperatures
Mandevilla plants are not frost-tolerant, so if you live in a region with cold winters, protection is necessary. Before the first frost, carefully dig up your mandevilla and gently shake off the excess soil from the root ball. Trim back any leggy growth, leaving a few inches of stems. Wrap the plant in burlap or horticultural fleece to insulate it from the cold. Store the mandevilla in a cool, dark location, such as a basement or garage, where temperatures remain above freezing. Check periodically throughout the winter, watering sparingly to keep the roots from drying out. In early spring, as the risk of frost subsides, reintroduce your mandevilla to the outdoors gradually. By offering protection during cold temperatures, you can preserve your mandevilla and enjoy its beauty in the years to come.
Pruning Techniques to Promote Healthy Growth in Mandevilla
Pruning mandevilla plants is essential for promoting healthy growth and maintaining an attractive appearance. Begin by removing any dead or damaged stems throughout the growing season. Additionally, consider pruning back the plant in early spring to control its size and shape. Cut back any overgrown or wayward stems to encourage a more compact and bushy growth habit. Mandevilla plants bloom on new wood, so pruning will encourage fresh growth and abundant flowering. By employing proper pruning techniques, you can keep your mandevilla in check and enhance its overall vitality and beauty in the garden.
Supporting and Training Mandevilla Vines as They Grow
Mandevilla is a climbing vine that requires support for vertical growth and optimal display of its breathtaking blooms. As your mandevilla begins to grow, provide it with a trellis, arbor, or stakes for support. Position the support structure near the plant, ensuring it reaches a suitable height. Gently guide the vines and tendrils towards the support, securing them as needed with soft ties or twine. Avoid pulling or forcing the plant, as it may damage the delicate stems. As the mandevilla grows, continue to monitor its growth pattern and train the vines accordingly. By providing the necessary support and training, you can create a stunning vertical display of mandevilla in your garden.
Troubleshooting Common Issues with Planting Mandevilla in the Ground
While mandevilla is a relatively low-maintenance plant, it can occasionally encounter issues. One common problem is aphid infestation, which can cause distorted growth and sticky residue on the leaves. Control aphids by using insecticidal soap or a strong blast of water to dislodge them. Another challenge is powdery mildew, a fungal disease that appears as a white powdery coating on the leaves. Prevent powdery mildew by ensuring adequate air circulation and avoiding overhead watering. If necessary, treat with a fungicide labeled for powdery mildew control. By promptly addressing these common issues, you can protect your mandevilla and maintain its health and beauty.
How to Overwinter Mandevilla Plants in Cold Climates
If you live in a region with cold winters, overwintering your mandevilla plants is necessary to ensure their survival. Before the first frost, carefully dig up your mandevilla, ensuring you include a significant portion of the root ball. Shake off any excess soil and trim back the stems, leaving approximately six inches in length. Wrap the root ball in moist sphagnum moss or newspaper to retain moisture during storage. Store the mandevilla in a cool, dark location with temperatures between 45 to 55°F (7 to 13°C), such as a basement or garage. Check periodically throughout the winter, misting the root ball lightly if it appears to be dry. In early spring, reintroduce your mandevilla to the outdoors gradually, allowing it to acclimate to outdoor conditions. By overwintering your mandevilla with care, you can protect it from the harsh winter elements and ensure its return in the following spring.
Enhancing the Beauty of Your Garden with Mandevilla in the Ground
Planting mandevilla in the ground can elevate the beauty of your garden to new heights. With its vibrant blooms and lush foliage, mandevilla adds a touch of tropical elegance and a burst of color. By carefully selecting the right location, preparing the soil, and providing proper care and maintenance, you can enjoy the splendor of mandevilla year after year. So, why wait? Transform your garden into a mesmerizing paradise by planting mandevilla in the ground. Get ready to be captivated by its enchanting presence and create lasting memories in your outdoor haven.