Are Mandevilla Poisonous to Cats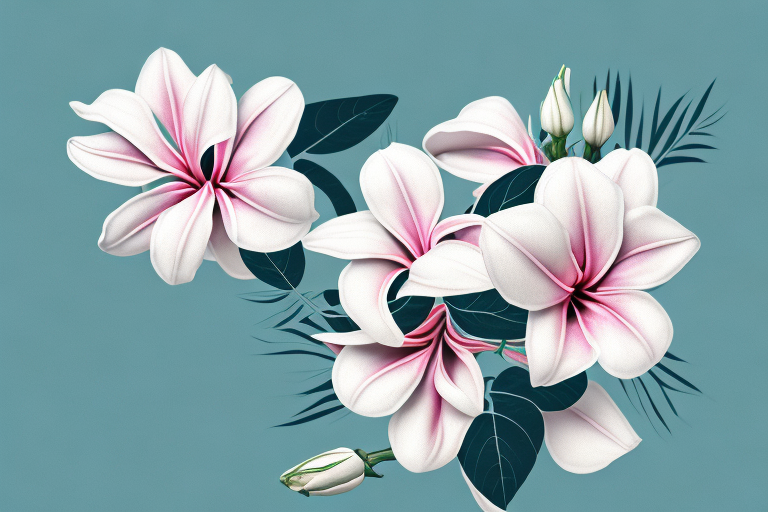 If you're a proud cat owner and also have a green thumb, it's essential to know which plants are safe for your feline friend. One plant that might catch your eye is the beautiful mandevilla. However, before bringing this eye-catching vine into your home or garden, it's important to understand its potential toxicity to cats. In this article, we'll delve into the subject of mandevilla toxicity and provide you with a comprehensive understanding of the risks, symptoms, and steps to take if your cat accidentally consumes this plant.
Understanding the Toxicity of Mandevilla Plants
Mandevilla plants, with their vibrant and trumpet-shaped flowers, can be an alluring addition to any garden or home. However, it's crucial to note that certain varieties of mandevilla can be toxic to cats when ingested. The toxicity is primarily due to the presence of a group of chemical compounds known as glycosides. These compounds can cause adverse reactions in cats, ranging from mild gastrointestinal upset to more severe symptoms that could potentially be life-threatening if left untreated.
It is important for cat owners to be aware of the potential dangers of mandevilla plants and take necessary precautions to keep their feline companions safe. One way to prevent accidental ingestion is to place the plants in areas that are inaccessible to cats, such as high shelves or hanging baskets. Additionally, it is advisable to closely monitor cats when they are outdoors to prevent them from nibbling on any potentially toxic plants, including mandevilla.
If a cat does ingest mandevilla or shows any signs of poisoning, it is crucial to seek immediate veterinary attention. The veterinarian may induce vomiting to remove any remaining plant material from the cat's system or administer activated charcoal to absorb the toxins. Depending on the severity of the symptoms, the cat may require further treatment, such as intravenous fluids or medications to alleviate gastrointestinal distress.
Potential Dangers of Mandevilla for Feline Friends
Cats are curious creatures, and their innate tendency to explore their surroundings may lead them to investigate and nibble on plants. If your furry friend decides to sample a mandevilla plant, there are several potential dangers they could face. The toxins present in mandevilla can irritate the gastrointestinal tract, leading to symptoms such as vomiting, diarrhea, and abdominal pain. In more severe cases, excessive ingestion of mandevilla may result in dehydration, seizures, or even cardiac abnormalities, causing a substantial threat to your cat's health.
It is important to note that not all cats will have the same reaction to mandevilla. Some cats may only experience mild symptoms, while others may have a more severe reaction. Additionally, the severity of the symptoms can depend on the amount of mandevilla ingested. If you suspect that your cat has ingested mandevilla or is showing any signs of illness after being exposed to the plant, it is crucial to seek veterinary care immediately. Prompt treatment can help minimize the potential risks and ensure the well-being of your feline friend.
Identifying Common Symptoms of Mandevilla Poisoning in Cats
Recognizing the signs of mandevilla poisoning in cats is crucial for early intervention. If you suspect that your cat has consumed mandevilla or exhibited unusual behavior after being near the plant, watch out for the following symptoms:
Vomiting
Diarrhea
Loss of appetite
Lethargy
Abdominal pain or discomfort
Excessive drooling
If your beloved feline companion displays any of these symptoms, it's vital to seek veterinary attention immediately.
Additionally, it's important to note that mandevilla poisoning in cats can also cause respiratory distress, such as difficulty breathing or wheezing. If you observe any respiratory symptoms along with the aforementioned signs, it is crucial to contact your veterinarian as soon as possible for proper diagnosis and treatment.
How Ingesting Mandevilla Can Affect a Cat's Health
When a cat consumes mandevilla, the toxic compounds present in the plant can swiftly enter their system, causing various adverse effects. The cat's gastrointestinal tract is often the first area to be affected, leading to symptoms such as vomiting and diarrhea. These symptoms can lead to dehydration, electrolyte imbalances, and weight loss if not adequately addressed.
In severe cases, the toxins may systematically affect other organs, affecting a cat's overall health. For example, if the toxic compounds impair the heart's normal functioning, it can lead to cardiac abnormalities and potentially be life-threatening for your feline companion.
Another potential consequence of mandevilla ingestion in cats is respiratory distress. The toxic compounds can irritate the respiratory system, leading to difficulty breathing, coughing, and wheezing. This can be particularly concerning for cats with pre-existing respiratory conditions, as it can exacerbate their symptoms and require immediate veterinary attention.
In addition to the immediate effects, long-term exposure to mandevilla toxins can have lasting impacts on a cat's health. Chronic ingestion of these toxic compounds can lead to organ damage, particularly to the liver and kidneys. Over time, this can result in organ dysfunction and potentially irreversible damage, significantly impacting the cat's overall well-being and quality of life.
The Chemical Compounds in Mandevilla That Are Harmful to Cats
Mandevilla plants contain a group of chemical compounds called glycosides, which are primarily responsible for their toxicity to cats. The specific glycosides found in mandevilla, including saponins and others, can cause gastrointestinal distress and other harmful effects when ingested by our feline friends. These compounds can irritate the delicate lining of the gastrointestinal tract, leading to inflammation, vomiting, and diarrhea.
In addition to gastrointestinal distress, the glycosides in mandevilla can also have other harmful effects on cats. These compounds have been found to affect the cardiovascular system, potentially leading to irregular heart rhythms and even cardiac arrest in severe cases. It is important to keep mandevilla plants out of reach of cats to prevent accidental ingestion and potential health complications.
Safe Alternatives to Mandevilla for Cat-Friendly Gardens
If you're looking to create a safe and visually appealing garden environment for both your cat and yourself, there are numerous alternatives to mandevilla worth considering. Opt for non-toxic plants such as spider plants, Boston ferns, or catnip, which not only provide an aesthetic appeal but also pose minimal health risks to your furry friend. It's always a good idea to research and select plants that are known to be safe for cats, ensuring a pet-friendly and worry-free space for your feline companion to roam and explore.
Precautions to Take When Growing Mandevilla Around Cats
Despite the potential risks, if you decide to grow mandevilla in your home or garden, it's crucial to take precautions to prevent your curious cat from getting access to the plant. Consider placing the plant in an area that is inaccessible to your cat, such as a hanging basket or elevated shelf. Alternatively, you can create barriers around the plant or use cat deterrent sprays to discourage your feline friend from nibbling on the leaves or flowers. Always supervise your cat when they are exploring new areas that may contain potentially toxic plants.
Steps to Take If Your Cat Accidentally Consumes Mandevilla
If you suspect that your cat has consumed mandevilla, acting swiftly is paramount. Contact your veterinarian immediately and inform them of the situation. They will guide you on the necessary steps to take based on your cat's symptoms, age, and overall health. In some cases, induced vomiting or specific supportive care may be required, depending on the severity of the ingestion and associated symptoms. Never attempt to treat your cat on your own or administer any medications without professional guidance.
Consultations with Veterinarians: Expert Advice on Mandevilla and Cats
When it comes to your cat's health, it's always wise to seek advice from veterinary professionals. They can provide tailored guidance based on your cat's specific needs and circumstances. Consult with your veterinarian to discuss any concerns you may have about mandevilla toxicity and its potential risks to your feline companion. They can offer personalized recommendations, suggest safe alternatives, and provide tips to maintain a cat-friendly environment while indulging in your passion for gardening.
Understanding the Difference Between Toxic and Non-Toxic Varieties of Mandevilla
While some species and hybrids of mandevilla are toxic to cats, it's important to note that not all varieties pose a threat. There are non-toxic varieties of mandevilla available, which can be a safer option for households with curious cats. When selecting a mandevilla plant, ensure you choose a non-toxic variety, which will allow you to enjoy the beauty of this flowering vine without compromising your feline friend's health.
Tips for Creating a Pet-Safe Environment when Cultivating Mandevilla Plants
To ensure a pet-safe environment when growing mandevilla plants, consider implementing the following tips and guidelines:
Research and select non-toxic varieties of mandevilla
Keep mandevilla plants out of your cat's reach
Create physical barriers or use deterrent sprays
Supervise your cat's access to garden areas
Offer safe and cat-friendly alternatives for your feline friend to explore
Seek expert advice from your veterinarian
In conclusion, while mandevilla plants can add beauty and charm to any space, it's crucial to be aware of their potential toxicity to cats. By understanding the risks, symptoms, and necessary precautions, you can create a pet-friendly environment that ensures the well-being and safety of both your beloved feline companion and your thriving garden.