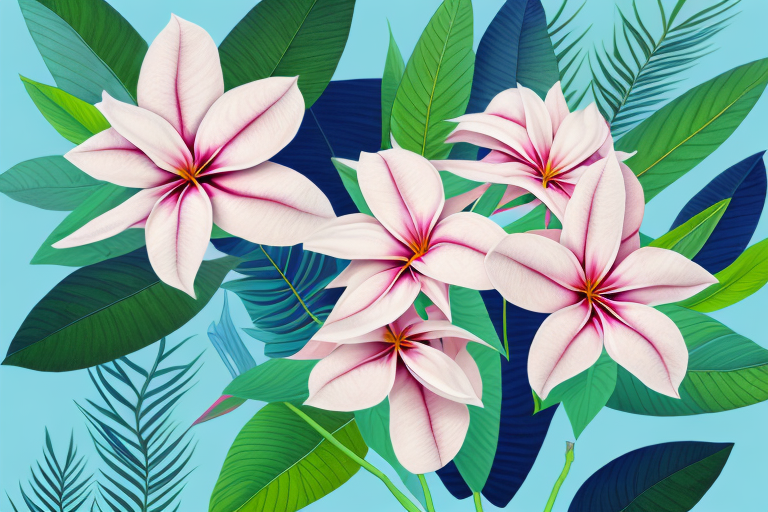 Welcome to our comprehensive guide to understanding Mandevilla Hybrid plants. Whether you are a seasoned gardener or a beginner, this article will provide you with all the information you need to know about this beautiful and versatile plant.
The History and Origins of Mandevilla Hybrid
Originally hailing from South America, the Mandevilla Hybrid, also known as Dipladenia, has a rich history that dates back centuries. Its vibrant flowers and lush foliage have made it a beloved addition to gardens around the world. The hybrid variety, created through careful cross-breeding, exhibits the best characteristics of its parent plants, resulting in a plant that is more disease-resistant, vigorous, and versatile.
Mandevilla Hybrid plants were first discovered in Brazil in the 1800s by French plant enthusiast Henry Mandeville. He was captivated by their beauty and sent specimens back to Europe, where they quickly gained popularity among horticulturists and gardeners. Since then, various hybrids have been developed, each with its own unique traits.
One of the key advantages of the Mandevilla Hybrid is its ability to thrive in a variety of climates. While it originated in South America, it has been successfully cultivated in regions with different temperature ranges, from tropical to subtropical and even some temperate areas. This adaptability has contributed to its widespread popularity and availability in many parts of the world.
In addition to its aesthetic appeal, the Mandevilla Hybrid also offers some practical benefits. Its vigorous growth habit and dense foliage make it an excellent choice for creating privacy screens or covering unsightly structures in the garden. Furthermore, its flowers attract pollinators such as bees and butterflies, making it a valuable addition to any pollinator-friendly garden.
Characteristics and Features of Mandevilla Hybrid Plants
Mandevilla Hybrid plants are known for their stunning trumpet-shaped flowers that come in a range of colors, including shades of red, pink, yellow, and white. These eye-catching blooms add a splash of color and drama to any garden or landscape. The glossy, dark green leaves provide an attractive backdrop for the flowers, creating a visually striking display.
In terms of growth habits, Mandevilla Hybrid plants are vining perennials that can reach impressive lengths if given proper support. They are not only beautiful in outdoor gardens but can also be grown as indoor plants or in containers on patios and balconies.
One of the standout features of Mandevilla Hybrid plants is their ability to attract pollinators such as butterflies and hummingbirds. This makes them a valuable addition to any garden, as they not only provide aesthetic value but also contribute to the overall health and biodiversity of the ecosystem.
Furthermore, Mandevilla Hybrid plants are relatively low-maintenance and easy to care for. They thrive in full sun to partial shade and require well-draining soil. Regular watering and occasional fertilization are usually sufficient to keep these plants healthy and blooming throughout the growing season.
Popular Varieties of Mandevilla Hybrid
There are several popular varieties of Mandevilla Hybrid plants, each with its own unique characteristics and bloom colors. Here are a few of the most widely cultivated varieties:
'Alice du Pont': This variety is known for its large, showy pink flowers and vigorous growth habit.
'Sun Parasol': Available in a range of colors, including deep red, pink, and white, this variety is prized for its prolific blooming and compact growth.
'Braziliensis': With its stunning red flowers and strong, vining habit, this variety is ideal for creating vertical interest in garden trellises or arbors.
How to Care for Mandevilla Hybrid Plants: Essential Tips and Tricks
Proper care is essential for the health and longevity of Mandevilla Hybrid plants. Here are some essential tips to keep in mind:
The Best Growing Conditions for Mandevilla Hybrid
Mandevilla Hybrid plants thrive in warm climates and require full sun to part shade for optimal growth and blooming. They prefer well-drained soil that is rich in organic matter. Planting them in raised beds or containers with good drainage can help prevent root rot and other moisture-related issues.
When it comes to temperature, Mandevilla Hybrid plants thrive in temperatures between 60-90°F (15-32°C). While they can tolerate cooler temperatures, it is essential to protect them from frost and freezing conditions, as they are sensitive to cold.
Watering and Fertilizing Mandevilla Hybrid Plants
Proper watering is crucial for the health of Mandevilla Hybrid plants. They prefer consistently moist soil, but not waterlogged conditions. It is important to water them deeply, allowing the water to penetrate the root zone, and then allow the top inch of soil to dry out before watering again. Avoid overwatering, as it can lead to root rot and other fungal diseases.
In terms of fertilizing, Mandevilla Hybrid plants benefit from regular feeding during the growing season. Use a balanced, slow-release fertilizer or a liquid fertilizer diluted to half strength every two to three weeks. This will provide the necessary nutrients for healthy growth and abundant blooming.
Pruning and Training Mandevilla Hybrid Plants
Pruning is an important aspect of caring for Mandevilla Hybrid plants. Regular pruning helps maintain their shape, promotes bushier growth, and encourages more blooms. Prune any dead or damaged branches, as well as any excessive growth that may be crowding the plant.
Mandevilla Hybrid plants are vigorous climbers, and they can be trained to grow on trellises, fences, or other support structures. Use soft ties or plant clips to secure the vines to the support, guiding them in the desired direction. Regularly check and adjust the ties as the plant grows to prevent any damage or restriction.