Mandevilla Temperature Tolerance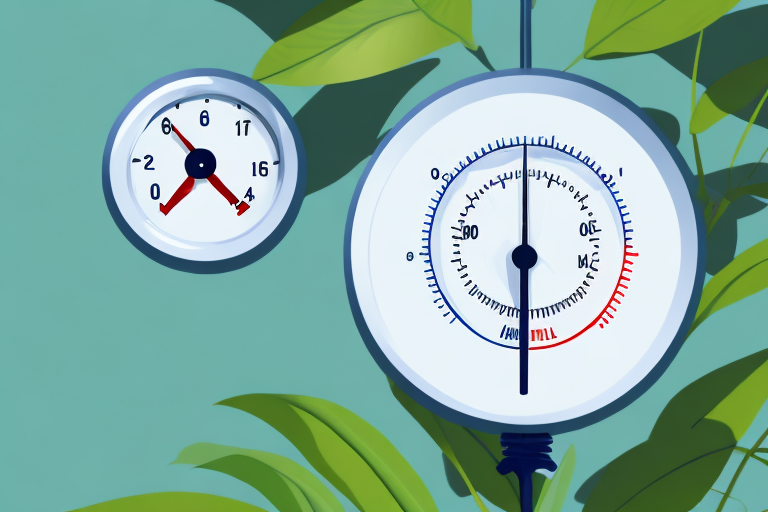 Welcome to our comprehensive guide on Mandevilla temperature tolerance. In this article, we will delve into all aspects of understanding and optimizing temperature conditions for the healthy growth and vibrant blooms of your Mandevilla plants. So, grab a cup of your favorite beverage, sit back, and let's explore the fascinating world of Mandevilla and its relationship with temperature.
Understanding the Ideal Temperature Range for Mandevilla Plants
Mandevilla plants, also known as Dipladenia, thrive in warm climates. The ideal temperature range for these tropical beauties is between 65°F (18°C) and 85°F (29°C). When the temperature hovers within this sweet spot, Mandevilla happily produces an abundance of lush foliage and vibrant blooms.
However, it is important to note that these temperature ranges may vary slightly depending on the specific Mandevilla cultivar you have. Some varieties may tolerate slightly cooler or warmer temperatures, so it is always beneficial to research the particular needs of your Mandevilla plant before adjusting the temperature conditions.
Factors Affecting Mandevilla's Ability to Tolerate Different Temperatures
Several factors come into play when considering Mandevilla's ability to tolerate different temperatures. Factors such as humidity, sunlight exposure, and soil moisture levels can significantly impact the overall temperature tolerance of these plants.
Humidity plays a crucial role, as Mandevilla prefers moderate to high levels of humidity. Dry air can stress the plant and affect its temperature tolerance. Similarly, exposure to intense sunlight without adequate shade can cause temperature stress on Mandevilla leaves and flowers. Lastly, soil moisture is essential in regulating the plant's temperature through its root system. Well-drained soil with proper moisture levels ensures healthy temperature regulation for Mandevilla.
The Importance of Temperature Control for Healthy Mandevilla Growth
Proper temperature control is pivotal in promoting healthy Mandevilla growth. Variations in temperature can affect their overall health, vitality, and blooming potential. Inconsistent temperature conditions may lead to stunted growth, decreased flowering, and even susceptibility to pests and diseases.
It is important to note that Mandevilla plants may experience temporary stress when exposed to extreme temperature changes, particularly during transitions between seasons. Sudden temperature drops or spikes can cause leaf yellowing, flower drop, and even plant wilting. Therefore, implementing strategies for temperature control and gradual acclimatization becomes critical in nurturing robust and flourishing Mandevilla plants.
Exploring Mandevilla's Natural Habitat and Climate Preferences
To gain a better understanding of Mandevilla's temperature needs, let's take a moment to explore its natural habitat and climate preferences. Originating from tropical and subtropical regions of South America, Mandevilla plants are adapted to warm and humid conditions.
In their native environment, Mandevilla grows as a vine, using its twining tendrils to climb trees or other supports. The lush rainforests of Brazil, Argentina, and Peru provide the ideal temperature range and moisture levels that Mandevilla thrives in. Understanding this natural habitat provides valuable insights into replicating optimal temperature conditions in cultivation settings.
Cold Hardiness: How Mandevilla Plants Handle Chilly Temperatures
Despite their love for warmth, some Mandevilla varieties exhibit varying degrees of cold hardiness. While most cultivars are sensitive to freezing temperatures, a few hardier types can withstand mild frosts.
When exposed to chilly temperatures, Mandevilla may experience leaf burn, foliar damage, or even die back. To protect your Mandevilla against cold snaps and freezing temperatures, consider providing adequate shelter, such as moving potted plants indoors or covering garden plants with frost blankets or mulch.
Heat Endurance: Unveiling Mandevilla's Resilience in Hot Climates
On the other end of the temperature spectrum, Mandevilla demonstrates remarkable endurance in scorching hot climates. These plants have evolved to withstand the intense heat and sunlight prevalent in their native habitats.
While Mandevilla can tolerate high temperatures, it is crucial to strike a balance between heat and humidity. In extremely arid regions, additional measures, such as providing partial shade or misting the foliage, can help mitigate temperature stress on the plants. Proper hydration, adequate air circulation, and avoiding prolonged exposure to extreme heat will ensure that your Mandevilla thrives even in the hottest climates.
The Effects of Extreme Temperatures on Mandevilla Plants
Extreme temperatures, whether extremely high or low, can have detrimental effects on Mandevilla plants. When faced with excessive heat, Mandevilla may experience sunburned leaves, wilting, and a decrease in flowering. Conversely, exposure to freezing temperatures can result in leaf discoloration, stem damage, and even plant death.
It is essential to be proactive in protecting your Mandevilla plants from extreme temperatures. By implementing temperature control measures, such as providing shade, insulation, or even relocating potted plants during temperature extremes, you can shield your Mandevilla from the potential negative consequences of extreme weather conditions.
Tips for Protecting Mandevilla from Frost and Freezing Temperatures
To safeguard Mandevilla from frost and freezing temperatures, take the following precautions:
When frost is expected, cover the plant with a frost blanket or cloth.
For potted Mandevilla, move them indoors to a warmer location.
Mulch the base of garden Mandevilla plants to insulate the roots.
Consider using plant-friendly heating methods, such as light bulbs or frost protection sprays.
By implementing these protective measures, you can help your Mandevilla plants brave the cold and emerge stronger once the winter season passes.
Adapting Mandevilla to Thrive in Different Temperature Zones
What if you live in a region with temperature extremes or outside of Mandevilla's ideal temperature range? Don't worry; you can still enjoy the beauty of Mandevilla by adapting them to thrive in your specific climate zone.
If you live in a cooler climate, opt for more cold-hardy Mandevilla varieties and focus on optimizing their growing conditions. Creating microclimates, such as placing the plants against a warm, south-facing wall or using protective coverings, can help replicate slightly warmer conditions and extend the growing season.
Similarly, if you reside in a hot and arid region, select heat-tolerant Mandevilla cultivars and implement strategies to provide shade, increase humidity, and maintain proper soil moisture to offset the high temperatures.
Optimizing Indoor Temperature Conditions for Potted Mandevilla Plants
If you prefer growing Mandevilla as a potted plant indoors, ensuring optimal temperature conditions is crucial for their well-being. Place your potted Mandevilla in a location where the temperature remains within the preferred range of 65°F (18°C) to 85°F (29°C).
Indoor environments often have drier air, so it is vital to monitor humidity levels and implement measures, such as misting the leaves or using a humidifier, to increase moisture around the plant. Additionally, be mindful of placing your Mandevilla away from cold drafts or heat sources to prevent sudden temperature fluctuations that can stress the plant.
Strategies for Creating Microclimates to Support Mandevilla's Temperature Needs
Creating microclimates is an effective way to provide tailored temperature conditions to accommodate Mandevilla's temperature needs. Here are a few strategies you can employ:
Consider planting Mandevilla against a warm, south-facing wall to capture and retain heat.
Install shade cloth or use natural shading techniques, such as planting taller trees or shrubs nearby, to reduce direct sunlight during peak heat hours.
Use reflective mulch around the base of the plant to bounce sunlight back onto the foliage and regulate soil temperature.
By incorporating these microclimate creation techniques, you can help your Mandevilla plants thrive in areas where the ambient temperature may not be ideal.
Seasonal Temperature Adjustments for Promoting Continuous Blooming in Mandevilla
Seasonal temperature adjustments can significantly impact Mandevilla's blooming patterns. Generally, Mandevilla plants respond well to moderate temperature fluctuations within their preferred range when transitioning between seasons.
During the spring and summer months when temperatures rise, Mandevilla's growth and blooming tend to peak. As fall approaches and temperatures start to drop, you may notice a decrease in blooming. This is a natural response as Mandevilla prepares for dormancy.
To maintain continuous blooming as much as possible, provide consistent temperature conditions, monitor humidity levels, and consider utilizing supplemental lighting during the cooler months to compensate for shorter daylight hours.
Understanding the Impact of Temperature Stress on Mandevilla's Health and Growth
Temperature stress can take a toll on the health and growth of Mandevilla plants. When subjected to prolonged periods of extreme temperatures, Mandevilla may exhibit symptoms of distress, such as yellowing leaves, diminished foliage, stunted growth, and reduced flowering.
To mitigate temperature stress, it is crucial to closely observe your Mandevilla plant's response to environmental cues. Adjust temperature control measures accordingly, such as providing shade during scorching days or protecting from frost during cold nights, to ensure optimal growing conditions for your Mandevilla.
Troubleshooting: Identifying and Addressing Temperature-related Issues in Mandevilla Plants
Mandevilla plants, like any living organisms, may encounter various temperature-related issues. Identifying and addressing these problems promptly is crucial in maintaining their overall health and well-being.
Common temperature-related issues in Mandevilla include leaf scorching, yellowing or browning leaves, wilting, and decreased blooming. While these symptoms may have multiple causes, temperature stress is a common culprit. By carefully assessing the overall growing conditions, adjusting temperature control measures, providing adequate care, and addressing any other underlying factors, you can nurse your Mandevilla plant back to optimal health.
Phew! We've covered a lot of ground when it comes to understanding Mandevilla temperature tolerance. By now, you should have a solid understanding of the ideal temperature range for Mandevilla plants, factors affecting their temperature tolerance, as well as tips for protecting and optimizing temperature conditions for your Mandevilla's growth.
Remember, precise temperature control, acclimatization, and attentive care are key to ensuring the health and vitality of your Mandevilla plants. By adopting these practices, you can create the perfect environment for your Mandevilla to thrive and grace your garden or indoor space with its luxuriant foliage and mesmerizing blooms.
So, go ahead, embark on this exciting journey of cultivating your very own Mandevilla oasis, and witness the magnificent beauty they have to offer!