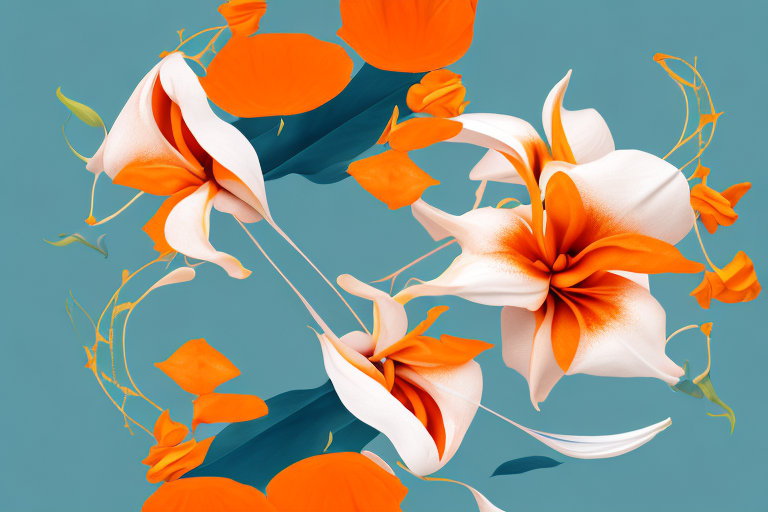 Mandevilla Orange is a stunning flowering plant that adds a touch of beauty and versatility to any garden or outdoor space. With its vibrant orange blooms and lush foliage, this plant is sure to catch the eye and become a focal point in your landscape. In this comprehensive guide, we will explore everything you need to know about growing, caring for, and using Mandevilla Orange in your gardening endeavors.
The Beauty and Versatility of Mandevilla Orange
Mandevilla Orange is known for its striking orange flowers that bloom throughout the summer and into the fall. The bright and vibrant hue of the blooms instantly adds a pop of color to your garden, making it an excellent choice for creating visual interest and drama. Whether planted in a flowerbed, container, or hanging basket, the Mandevilla Orange will certainly grab attention and create an inviting atmosphere in your outdoor space.
Aside from its beauty, Mandevilla Orange is also highly versatile. It can be used in various landscaping designs and arrangements, whether as a climbing vine, a standalone centerpiece, or a trailing plant in hanging baskets. Its versatility makes it an ideal choice for both novice and experienced gardeners who want to experiment with different styles and arrangements.
Growing and Caring for Mandevilla Orange: A Comprehensive Guide
When it comes to growing Mandevilla Orange, providing the right growing conditions is essential. This tropical plant thrives in full sun, so be sure to choose a location that receives at least six hours of direct sunlight per day. In addition to sunlight, Mandevilla Orange also requires well-draining soil and regular watering to keep it healthy and vibrant.
To get started, prepare the soil by loosening it to improve drainage. Incorporating compost or organic matter will help provide essential nutrients to the plant. Ensure that the soil pH is slightly acidic to neutral, around 6.0 to 7.0, as this will enable optimal growth. When planting Mandevilla Orange, make sure to dig a hole that is twice the width of the root ball and place the plant at the same level as it was in its container.
How to Choose the Perfect Location for Your Mandevilla Orange Plant
Choosing the right location for your Mandevilla Orange plant is crucial to its overall health and growth. As mentioned earlier, this plant thrives in full sun, so selecting a spot with ample sunlight is essential. Additionally, consider the temperature in your region, as Mandevilla Orange prefers warmer climates and may not do well in extremely cold areas.
The ideal location should also provide some protection from strong winds, as excessive wind can damage the delicate blooms and foliage. Providing a trellis, fence, or other support structure for your Mandevilla Orange vine will not only protect it from the wind but also enhance its climbing nature and create a stunning vertical display.
Soil Requirements for Thriving Mandevilla Orange Plants
Having the right soil composition is vital for the healthy growth and development of your Mandevilla Orange plants. This tropical vine prefers well-drained soil, rich in organic matter. Ensure that the soil is loose and crumbly to allow proper root penetration and oxygenation.
In terms of pH, Mandevilla Orange thrives in slightly acidic to neutral conditions, with a pH range of 6.0 to 7.0. You can test the pH level of your soil using a soil testing kit from your local garden center. If the soil pH is outside the optimal range, you can adjust it accordingly by adding soil amendments such as sulfur to lower the pH or lime to raise it.
Sunlight Needs: Providing Optimal Light Conditions for Mandevilla Orange
As mentioned earlier, Mandevilla Orange is a sun-loving plant and thrives in full sunlight. Providing it with at least six hours of direct sunlight per day ensures vigorous growth and abundant blooming. If your garden has areas with partial shade or filtered sunlight, Mandevilla Orange can still tolerate those conditions. However, prolonged periods of shade may result in fewer blooms.
If planting Mandevilla Orange in a container or hanging basket, make sure to place it in an area where it can receive the most sunlight throughout the day. Consider placing it on a patio, rooftop, or any other location that provides ample sunshine. Regularly rotate the container to ensure all sides of the plant receive equal sunlight exposure to prevent lopsided growth.
Watering Tips for Healthy and Vibrant Mandevilla Orange Flowers
Proper watering is essential for the health and vibrancy of your Mandevilla Orange flowers. This tropical plant prefers consistently moist, but not waterlogged, soil. Water deeply and thoroughly, ensuring that the water reaches the root zone. Avoid overwatering, as it can lead to root rot and other issues. On the other hand, allowing the soil to dry out completely can stress the plant and result in wilting.
During hot summer months, you may need to water your Mandevilla Orange plant more frequently, as the increased temperatures can cause the soil to dry out faster. When watering, it's best to use a watering can or a soaker hose to direct the water directly to the soil, minimizing foliage wetting. Watering in the morning allows excess moisture to evaporate during the day and reduces the risk of fungal diseases.
Fertilizer Recommendations for Promoting Blooms in Mandevilla Orange
Fertilizing your Mandevilla Orange plants properly can significantly enhance blooming and overall growth. As a tropical plant, it benefits from regular feeding during the growing season, typically from spring to fall. Using a balanced, slow-release fertilizer with an N-P-K ratio of 10-10-10 or 20-20-20 is recommended.
Start by applying a slow-release granular fertilizer at the beginning of the growing season, following the package instructions for application rates. Repeat the feeding every six to eight weeks throughout the growing season to provide a consistent supply of nutrients. Additionally, supplement with liquid fertilizer every two weeks during the active blooming period to ensure your Mandevilla Orange plants receive the necessary nutrients for prolific flowering.
Preventing and Treating Common Diseases and Pests in Mandevilla Orange Plants
Like any other plant, Mandevilla Orange can be susceptible to certain diseases and pests. Keeping a close eye on your plants and taking preventive measures can help maintain their health and vitality.
One common disease that affects Mandevilla Orange is powdery mildew, a fungal infection that appears as a white powdery substance on the leaves. To prevent powdery mildew, ensure adequate air circulation around your plants by spacing them properly and avoiding overcrowding. If you notice signs of powdery mildew, treat it with a fungicide specifically formulated for powdery mildew control.
Pests such as aphids, spider mites, and mealybugs can also infest Mandevilla Orange plants. Regularly inspect your plants for any signs of pest infestations, such as discolored or distorted leaves, sticky residue, or visible insects. Use insecticidal soap or horticultural oils to control these pests, following the instructions on the product label.
Pruning Techniques for Shaping and Maintaining Mandevilla Orange Plants
Pruning is an essential part of maintaining healthy and aesthetically pleasing Mandevilla Orange plants. Regular pruning helps promote bushier growth, remove dead or damaged stems, and shape the plant as desired. The best time to prune Mandevilla Orange is in early spring, just before new growth emerges.
Start by removing any dead or diseased stems, cutting them back to healthy tissue. Next, assess the overall shape and size of the plant and determine if any excessive growth or unwanted branches need to be pruned. Remember to use clean, sharp pruning shears to make clean cuts and prevent the spread of diseases.
Propagating Mandevilla Orange: Step-by-Step Guide to Successful Plant Propagation
If you wish to expand your collection of Mandevilla Orange plants or share them with friends and family, propagation is an excellent way to achieve this. Mandevilla Orange can be propagated through stem cuttings with a high success rate.
Start by selecting a healthy stem that is approximately 4-6 inches long and free from any signs of disease or damage. Remove any leaves from the lower half of the stem, leaving a few at the top. Dip the cut end of the stem in a rooting hormone to encourage root development.
Prepare a small container with a well-draining potting mix, moisten it slightly, and create a small hole in the center. Insert the prepared cutting into the hole and gently firm the soil around it. Place the container in a warm, brightly lit area, but avoid direct sunlight. Mist the cutting regularly to maintain high humidity and prevent it from drying out until roots develop. Once rooted, you can transplant the young Mandevilla Orange plant into a larger pot or directly into the garden.
Creative Ways to Use Mandevilla Orange in Landscaping Designs
Mandevilla Orange offers endless possibilities for creative and visually stunning landscaping designs. Here are a few ideas to inspire you:
1. Vertical Gardens: Utilize the climbing nature of Mandevilla Orange by training it to climb trellises or fences, creating a unique and vibrant vertical display. This is particularly effective in small spaces where vertical gardening maximizes the use of limited area.
2. Colorful Edging: Use Mandevilla Orange as a low-growing border or edging plant along pathways or flowerbeds. Its vivid orange blooms will add a cheerful touch to any landscape design.
3. Mixed Containers: Combine Mandevilla Orange with other brightly colored flowers and foliage plants in containers to create attractive and eye-catching displays. Consider complementary colors, such as purple or yellow, to enhance the overall visual impact.
4. Hanging Baskets: Plant Mandevilla Orange in hanging baskets and place them on porches, balconies, or pergolas for a cascading display of vibrant orange blooms. Pairing it with trailing plants, such as ivy or sweet potato vine, adds contrast and texture.
Remember to consider the size, growth habit, and light requirements of other plants when designing your landscape to ensure a harmonious and visually appealing composition.
Enhancing Outdoor Spaces with Mandevilla Orange Hanging Baskets and Containers
Mandevilla Orange is an excellent choice for hanging baskets and containers, as its cascading growth habit creates a stunning and eye-catching display. Whether placed on a patio, balcony, or in a garden, Mandevilla Orange in hanging baskets or containers instantly adds a vibrant touch to outdoor spaces.
When selecting a hanging basket or container, ensure that it has proper drainage holes to prevent waterlogging. Choose a size that accommodates the growth habit and root system of the Mandevilla Orange plant, allowing room for root expansion. Consider using lightweight containers or hanging baskets to ease maintenance and prevent strain on supporting structures.
In terms of care, hanging baskets and containers require more frequent watering compared to plants in the ground, as they tend to dry out faster. Monitor the moisture levels regularly and water when the top inch of soil feels dry. Fertilize the plants regularly using a balanced liquid fertilizer to ensure they receive the necessary nutrients for healthy growth and abundant flowering.
Using Mandevilla Orange as a Climbing Vine: Tips and Tricks for Training and Support
One of the most popular uses for Mandevilla Orange is as a climbing vine. If you have walls, fences, or other vertical structures in your garden, training Mandevilla Orange to climb them can create a stunning display of cascading orange blooms.
To train your Mandevilla Orange vine, start by installing a suitable support structure. Options include trellises, wooden or wire fences, or an existing wall covered with a trellis. Ensure the support is sturdy enough to bear the weight of the mature plant. Attach the vine to the support using soft ties or plant clips. Guide the main stem upwards and secure it to the support as it grows.
Regularly inspect the plant and gently guide new growth along the support to maintain an even and uniform appearance. Prune any excessive or unruly growth to maintain the desired shape and prevent overcrowding. Remember to be patient, as Mandevilla Orange may take some time to establish and start climbing.
Combining Colors: Pairing Mandevilla Oranges with Other Plants in Your Garden
Mandevilla Orange pairs beautifully with a range of other plants, allowing you to create stunning color combinations in your garden. Consider the following options:
1. Contrasting Colors: Pair Mandevilla Orange with plants that have contrasting colors, such as purple or blue flowers, to create a vibrant and visually striking display. The contrast between the orange blooms and the cooler tones will create a dramatic effect.
2. Harmonious Colors: Combine Mandevilla Orange with plants that have similar or complementary hues, such as yellow or pink. This creates a cohesive and harmonious color scheme, adding elegance and sophistication to your garden.
3. Foliage Contrast: Use plants with contrasting foliage colors and textures to enhance the impact of your Mandevilla Orange blooms. For example, pair it with plants that have dark green or variegated leaves to provide a backdrop that makes the vibrant orange flowers stand out even more.
When combining colors, consider the growth habits and light requirements of the plants to ensure they are compatible and can thrive together. Experiment with different combinations to discover the perfect pairing that suits your personal style and preferences.
In conclusion, Mandevilla Orange is a beautiful and versatile plant that can transform your garden or outdoor space with its vibrant orange blooms and lush foliage. By following the tips and techniques outlined in this comprehensive guide, you can successfully grow, care for, and use Mandevilla Orange in various landscaping designs. Whether as a climbing vine, in hanging baskets, or mixed with other plants, Mandevilla Orange is sure to add a touch of beauty and elegance to your outdoor oasis.