Mandevilla Hanging Basket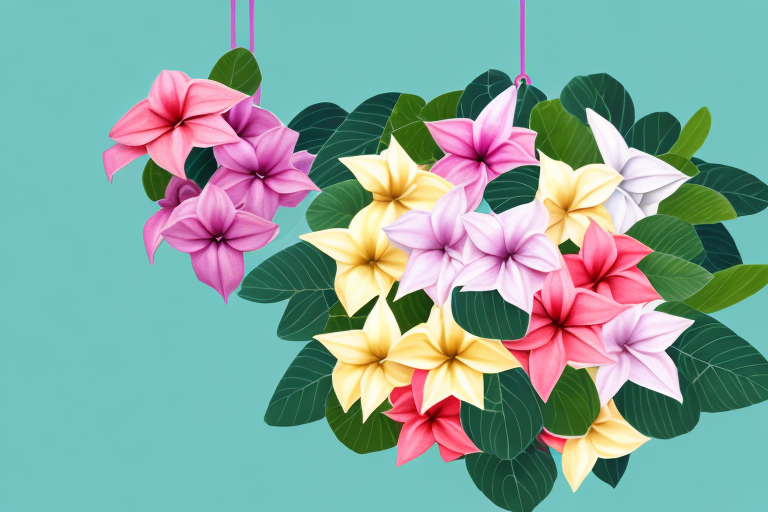 Are you looking to add a vibrant and eye-catching element to your outdoor space? Look no further than the Mandevilla hanging basket! With its stunning blooms and cascading vines, the Mandevilla is the perfect choice for creating a captivating display that will wow your friends and neighbors. In this article, we will explore everything you need to know about choosing, planting, and caring for a Mandevilla hanging basket to ensure that it thrives and adds beauty to your surroundings.
Choosing the Perfect Mandevilla Variety for a Hanging Basket
When selecting a Mandevilla variety for your hanging basket, it's important to consider your climate and desired aesthetic. Mandevillas come in a range of colors, including shades of pink, red, white, and yellow. Choose a color that complements your outdoor space and creates the desired impact. Additionally, consider the size and growth habit of the Mandevilla. Some varieties have more compact forms, making them ideal for smaller hanging baskets, while others have more vigorous growth and require larger containers.
TIP: Before purchasing a Mandevilla, check with your local nursery or gardening center to ensure that the variety you choose is suitable for your climate.
Creating a Stunning Mandevilla Display with Hanging Baskets
The key to creating a stunning Mandevilla display is to choose the right hanging basket and placement. Opt for a basket with excellent drainage and sufficient depth to accommodate the Mandevilla's root system. Consider using a basket with a coconut coir lining to help retain moisture and promote healthy growth.
When it comes to placement, select an area that receives ample sunlight for at least six hours a day. Mandevillas thrive in full sun, so be sure to choose a spot that allows them to soak up those rays. However, it's important to protect the plants from harsh midday sun, as excessive heat can scorch the delicate blooms.
TIP: To create an even more visually appealing display, consider pairing your Mandevilla hanging basket with other complementary plants, such as trailing vines or colorful annuals.
The Benefits of Growing Mandevilla in Hanging Baskets
There are several benefits to growing Mandevilla in hanging baskets. Firstly, the cascading nature of the vines creates a stunning visual effect, adding an element of beauty and elegance to any outdoor space. Secondly, the elevated position of the hanging basket allows the blooms to be showcased at eye level, making them more visible and enjoyable. Lastly, growing Mandevillas in hanging baskets can save valuable ground space, making them an excellent choice for those with limited gardening areas.
Furthermore, the Mandevilla's vigorous growth habit means that it can quickly fill out a hanging basket, producing an abundance of colorful blooms throughout the warmer months. This makes it an excellent choice for those looking for a plant that provides a high impact with minimal effort.
Step-by-Step Guide to Planting a Mandevilla Hanging Basket
Now that you've chosen the perfect Mandevilla variety and hanging basket, it's time to plant! Follow these simple steps to ensure your Mandevilla gets off to the best start:
Fill your hanging basket with a well-draining potting mix, leaving enough room to accommodate the Mandevilla's root ball.
Carefully remove the Mandevilla from its nursery container, taking care not to damage the roots.
Place the Mandevilla in the center of the hanging basket, ensuring it is upright and at the desired height.
Backfill the sides of the basket with potting mix, gently firming it around the roots to provide stability.
Water the Mandevilla thoroughly until the water drains out of the bottom of the basket. This will help settle the soil and ensure good root-to-soil contact.
Hang the basket in its desired location, making sure it is secure and hung at a height that allows the Mandevilla to cascade gracefully.
TIP: Adding a slow-release fertilizer to the potting mix before planting can provide the Mandevilla with a steady supply of nutrients throughout the growing season.
Essential Tips for Caring for Your Mandevilla Hanging Basket
Now that your Mandevilla hanging basket is planted, it's important to provide it with the proper care to ensure its ongoing health and vitality. Here are some essential tips to keep in mind:
Watering Techniques for Healthy and Vibrant Mandevilla Hanging Baskets
Proper watering is crucial for the success of your Mandevilla hanging basket. During the warmer months, when the plant is actively growing, water the basket regularly, keeping the soil consistently moist but not waterlogged. Avoid allowing the soil to dry out completely, as this can lead to stress and hinder flower production.
TIP: To help retain moisture and reduce the frequency of watering, consider adding a layer of mulch to the top of the soil in your hanging basket.
Pruning and Training Mandevilla in Hanging Baskets for Optimal Growth
Pruning and training your Mandevilla is essential to maintain its shape and promote optimal growth. As the vines grow, they may become unruly or extend beyond the desired bounds of the hanging basket. Regularly trim back any overgrown or damaged foliage to encourage new growth and maintain a neat appearance. Additionally, consider guiding the vines along a trellis or support structure to keep them in check and create a more structured display.
Protecting Your Mandevilla from Pests and Diseases in Hanging Baskets
While Mandevillas are relatively pest and disease resistant, they may occasionally encounter some common issues. Watch out for aphids, spider mites, and whiteflies, which can infest the plants and cause damage. If you notice any signs of pest activity, treat the affected areas with an appropriate insecticidal soap or pesticide, following the instructions carefully. Additionally, be aware of fungal diseases, such as powdery mildew, and take measures to prevent them by ensuring good air circulation and avoiding overwatering.
Overwintering Mandevilla Hanging Baskets: How to Keep Them Alive
In regions with colder climates, it's important to take steps to overwinter your Mandevilla hanging basket and ensure its survival. Before the first frost, bring the basket indoors and place it in a cool, well-lit location, such as a basement or garage. Cut back the vines to reduce their overall size and water the plant sparingly to avoid overwatering during the dormant period. In early spring, as the weather warms up, gradually reintroduce your Mandevilla to outdoor conditions and resume regular watering and care.
Design Ideas and Combinations for Stunning Mandevilla Hanging Baskets
While a single Mandevilla hanging basket can make a statement on its own, why not take it up a notch by incorporating other plants and design elements? Here are some design ideas and combinations to inspire you:
Create a tropical oasis by pairing your Mandevilla with lush, tropical foliage plants such as ferns and palms.
Add an element of height by incorporating a tall, architectural plant, such as a dracaena or cordyline, into your hanging basket display.
For a burst of color, intersperse your Mandevilla with other blooming plants, such as petunias or geraniums, in complementary hues.
Consider incorporating trailing vines, such as ivy or bacopa, to create a cascading effect and add texture to your hanging basket.
TIP: Don't be afraid to experiment and get creative with your Mandevilla hanging basket design. Mixing different plants and colors can result in truly unique and visually stunning displays.
Troubleshooting Common Issues with Mandevilla in Hanging Baskets
While the Mandevilla is generally a resilient and low-maintenance plant, it may encounter a few common issues that can impact its growth and overall appearance. Here are some troubleshooting tips for dealing with these issues:
Yellowing Leaves:
If your Mandevilla's leaves are turning yellow, it could be a sign of overwatering. Ensure that the soil is well-draining and reduce watering frequency. Yellowing leaves can also indicate nutrient deficiencies, so consider fertilizing your plant with a balanced fertilizer to provide the necessary nutrients.
Poor Flowering:
If your Mandevilla is not producing many flowers, it may be due to inadequate sunlight or insufficient nutrients. Ensure that your hanging basket is in a location that receives at least six hours of direct sunlight a day, and consider fertilizing with a high-phosphorus fertilizer to encourage flower production.
Lack of Growth:
If your Mandevilla seems stagnant or is not growing as expected, it may be lacking essential nutrients. Consider fertilizing with a balanced slow-release fertilizer or applying a liquid fertilizer according to the package instructions.
Propagation Methods to Expand Your Collection of Mandevillas in Hanging Baskets
If you can't get enough of the beauty and elegance of Mandevillas, why not expand your collection through propagation? Here are a few methods to consider:
Softwood Cuttings: Take 4-6 inch cuttings from the tips of healthy Mandevilla vines and dip the cut ends in rooting hormone. Plant the cuttings in a well-draining potting mix and keep them warm and moist until they root.
Air Layering: Select a healthy, mature section of a Mandevilla vine and make a small cut halfway through the stem just below a node. Dust the cut with rooting hormone and wrap it with damp sphagnum moss. Secure the moss with plastic wrap or aluminum foil and wait for roots to develop. Once roots have formed, cut the stem below the root ball and plant it in a potting mix.
Division: For Mandevillas that have multiple stems originating from the same root system, you can carefully divide the plant by gently separating the root ball into smaller sections. Ensure that each section has sufficient roots and replant them in individual pots.
TIP: Propagation is typically done during the active growing season, such as spring or early summer, when the plants are in their prime.
Using Climbing Structures with Mandevilla in Hanging Baskets: A Step-by-Step Guide
If you prefer a more structured look to your Mandevilla hanging basket, consider incorporating a climbing structure to guide the vines upwards. Here's how to do it:
Choose a climbing structure that suits your desired design aesthetics and provides ample support for the Mandevilla vines.
Position the climbing structure in the center of the hanging basket before planting the Mandevilla.
As the Mandevilla grows, gently train the vines along the climbing structure, securing them with soft plant ties or twine.
Regularly check and adjust the training as needed to ensure the vines follow the desired path and avoid tangling or overcrowding.
TIP: Be mindful not to place the climbing structure too close to the edge of the hanging basket, as it may unbalance the basket and cause it to tip over.
Enhancing the Beauty of Your Outdoor Space with Colorful Mandevilla Hanging Baskets
There's no denying the visual impact that a colorful Mandevilla hanging basket can bring to your outdoor space. Whether you have a small balcony or a spacious garden, incorporating these stunning plants can instantly enhance the beauty of your surroundings.
Don't be afraid to experiment with different varieties, colors, and design combinations to create a truly unique and captivating display. With proper care and attention, your Mandevilla hanging basket will reward you with abundant blooms and vibrant foliage, making it a focal point of your outdoor space.
Considerations for Choosing the Right Size and Shape of a Mandevilla Hanging Basket
When choosing the right size and shape of a Mandevilla hanging basket, there are a few factors to consider:
Firstly, consider the growth habit and vigor of the Mandevilla variety you have chosen. Some varieties have more compact habits and require smaller baskets, while others have more vigorous growth and need larger containers to accommodate their size.
Secondly, consider the space available in your outdoor area. If you have limited space or a smaller balcony, opt for a smaller hanging basket. Conversely, if you have ample space or a larger garden, you can choose a larger basket to create a more dramatic display.
Lastly, consider the overall aesthetics and design of your outdoor space. Choose a hanging basket shape that complements the space and adds visual interest. Traditional round baskets are a classic choice, but you can also consider square or rectangular baskets for a more contemporary look.
Taking these factors into account will ensure that you choose the perfect size and shape of a Mandevilla hanging basket that not only suits your plant's needs but also enhances the overall beauty of your outdoor space.
In conclusion, the Mandevilla hanging basket is a versatile and visually stunning choice for adding vibrancy to your outdoor space. By following these tips and guidelines for choosing, planting, and caring for your Mandevilla, you can create a captivating display that will be the envy of your neighbors. So go ahead, embrace the beauty of the Mandevilla and let it transform your outdoor space into a blooming oasis!