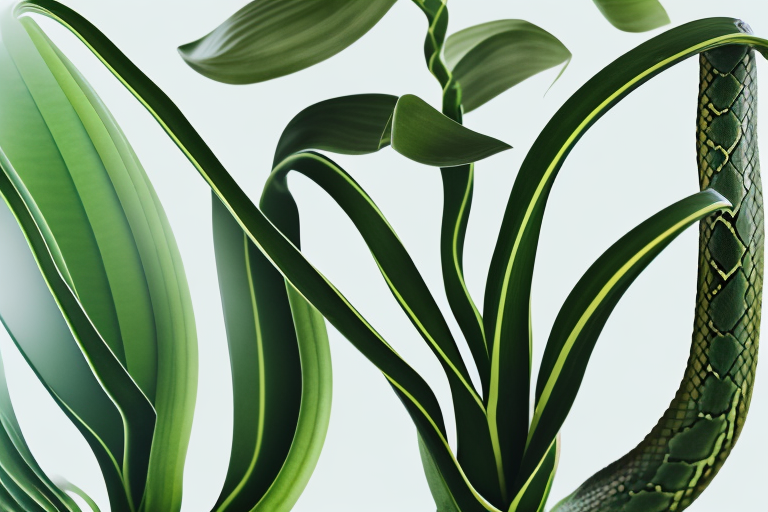 If you've noticed that your snake plant's leaves are bending, don't worry! This common issue can be easily resolved with a little understanding and care. In this article, we'll explore the causes of bent leaves in snake plants and provide you with tips on prevention and treatment. Let's dive in!
Understanding the Snake Plant
The snake plant, also known as Sansevieria or mother-in-law's tongue, is a popular houseplant known for its hardiness and striking appearance. Originating from West Africa, this plant has long, erect leaves that can grow up to several feet tall. With their variegated patterns and sharp edges, snake plants add a touch of elegance to any home décor.
Origin and Characteristics of the Snake Plant
The snake plant's origins can be traced back to the arid regions of West Africa. It has adapted to survive in harsh conditions, making it a resilient and low-maintenance plant for indoor cultivation. Its thick leaves store water, allowing it to tolerate periods of drought.
One interesting characteristic of the snake plant is its ability to thrive in low light conditions. This makes it an ideal choice for rooms with limited natural sunlight, such as basements or offices with small windows. The snake plant's ability to photosynthesize efficiently even in low light levels is a testament to its adaptability.
Another fascinating aspect of the snake plant is its unique growth pattern. As the plant matures, it produces new leaves from the center of the rosette, pushing the older leaves outward. This creates a visually appealing arrangement, with the taller leaves forming a graceful arch. This growth habit adds to the overall aesthetic appeal of the snake plant, making it a popular choice among plant enthusiasts.
Importance of Snake Plant in Home Decor
Aside from its attractive appearance, snake plants offer a range of benefits to homeowners. They are excellent air purifiers, removing toxins such as formaldehyde and benzene from the air. Additionally, snake plants are known to release oxygen at night, making them ideal bedroom companions.
Snake plants are also known for their ability to improve indoor air quality. The leaves of the plant have been found to absorb and neutralize harmful pollutants, such as nitrogen oxides and volatile organic compounds (VOCs). This makes them a great addition to any home, especially for those who suffer from allergies or respiratory issues.
In addition to their air-purifying properties, snake plants are also believed to have a calming effect on individuals. The presence of greenery in indoor spaces has been shown to reduce stress and promote a sense of well-being. With their elegant and soothing appearance, snake plants can create a serene atmosphere in any room.
Furthermore, snake plants are relatively low-maintenance, making them a perfect choice for busy individuals or those with a less-than-green thumb. They can tolerate a wide range of temperatures and humidity levels, and only require infrequent watering. This makes them an ideal plant for those who want to enjoy the benefits of indoor greenery without the hassle of constant care.
Overall, the snake plant is not only a visually appealing addition to home decor, but also a beneficial plant that improves air quality and promotes a sense of well-being. Its adaptability and low-maintenance nature make it a popular choice for both novice and experienced plant enthusiasts. Whether placed in a living room, bedroom, or office, the snake plant is sure to bring beauty and tranquility to any space.
Causes of Bent Leaves in Snake Plants
There are several factors that can lead to bent leaves in snake plants. Identifying the underlying cause is crucial for effective treatment. Let's explore the main culprits:
Overwatering and Underwatering
One of the most common causes of bent leaves in snake plants is improper watering. Overwatering can lead to root rot and weakened stems, causing the leaves to droop. On the other hand, underwatering can result in dehydration and wilted foliage. Striking a balance is key to maintaining healthy, upright leaves.
When it comes to watering snake plants, it's important to remember that they are drought-tolerant and prefer to dry out between waterings. This means that you should allow the soil to completely dry out before watering again. Overwatering can suffocate the roots and lead to a variety of issues, including bent leaves.
Underwatering, on the other hand, deprives the plant of the necessary moisture it needs to thrive. This can cause the leaves to become limp and droopy, as the plant tries to conserve water. To prevent this, make sure to water your snake plant thoroughly, allowing the water to reach the roots.
Inadequate Light Exposure
Snake plants thrive in bright, indirect light. Insufficient light exposure can cause them to grow poorly, with weak and bending leaves. If your snake plant is placed in a dimly lit area, consider moving it to a spot with more natural sunlight to promote upright growth.
When it comes to light requirements, snake plants are quite forgiving and can tolerate low light conditions. However, prolonged exposure to low light can affect their overall health and cause the leaves to bend or droop. To ensure optimal growth, it's best to place your snake plant near a window where it can receive bright, indirect light for a few hours each day.
Temperature and Humidity Factors
Extreme temperature conditions can also impact the health of snake plants. Exposure to cold drafts or excessively hot environments can cause stress, leading to bent or drooping leaves. Additionally, low humidity levels can cause the leaves to lose moisture, resulting in wilted or curled foliage. Maintaining a stable temperature and humidity is essential for the well-being of your snake plant.
Snake plants are native to tropical regions of West Africa, where they are accustomed to warm temperatures and high humidity. Therefore, they prefer temperatures between 70-90°F (21-32°C) and humidity levels around 40-50%. Exposing your snake plant to temperatures below 50°F (10°C) or above 95°F (35°C) can cause leaf damage and bending.
Furthermore, low humidity levels, especially during winter months when indoor heating is used, can cause the leaves to lose moisture rapidly. This can lead to wilting and bending. To increase humidity levels, you can place a tray of water near the plant or use a humidifier.
Identifying the Symptoms of Bent Leaves
Recognizing the signs of distress in snake plants is crucial for early intervention. By identifying the symptoms, you can take the necessary steps to rectify the issue before it worsens. Here are some visual indications to watch out for:
Visual Signs of Distress in Snake Plants
Besides bent leaves, other signs of distress in snake plants include yellowing, browning, or mushy foliage. If you notice any of these symptoms, it's important to take prompt action to restore the plant's health.
Progression of Leaf Bending in Snake Plants
The bending or drooping of snake plant leaves usually occurs gradually. It may start with slight wilting or curling, which can progress to more severe bending over time. Regular observation is key to catching the problem early on and preventing further damage.
Prevention and Treatment for Bent Leaves
Now that we understand the causes and symptoms, let's explore how to prevent and treat bent leaves in snake plants. By following these tips, you'll be well equipped to maintain healthy, upright foliage:
Proper Watering Techniques for Snake Plants
Watering snake plants can be tricky, but with a little practice, you'll find the right balance. Ensure that the soil is completely dry before watering. Be cautious not to overwater, as this can lead to root rot. Instead, water thoroughly and then allow the soil to dry out completely between waterings.
Ideal Light and Temperature Conditions
Place your snake plant in a location with bright, indirect light. Avoid exposing it to prolonged direct sunlight, as this can scorch the leaves. Additionally, maintain a temperature range of 60-85°F (15-29°C), avoiding extreme fluctuations. This will provide an optimal environment for your snake plant to thrive.
Repotting and Soil Considerations
Snake plants prefer well-draining soil. When repotting, choose a pot with proper drainage and use a suitable potting mix. Avoid overpotting, as too much space can cause excess moisture retention. Repotting every 1-2 years will ensure healthy growth and prevent root-bound conditions.
Frequently Asked Questions About Snake Plant Care
How Often Should I Water My Snake Plant?
The frequency of watering your snake plant depends on various factors such as the season, temperature, and humidity levels. As a general rule, allow the soil to dry out completely between waterings, typically every 2-4 weeks.
Can Bent Leaves Be Straightened Again?
If the bending is mild, you can gently straighten the leaves by providing proper care and support. However, severely bent leaves may not fully recover. Focus on rectifying the underlying cause to prevent further bending in the future.
Is It Normal for Snake Plants to Have Bent Leaves?
While some slight bending in snake plant leaves is natural, excessively bent or drooping foliage is not normal and indicates a problem. Keeping a close eye on your plant's health will help prevent and address any issues that arise.
By understanding the causes, symptoms, and preventive measures for bent leaves in snake plants, you'll be well-equipped to care for your plant and ensure its health and vitality. Remember to observe your snake plant regularly, provide proper watering, lighting, and temperature conditions, and address any issues promptly. With a little care, your snake plant will thrive and grace your living space with its upright, elegant leaves!