Potted Hibiscus Leaves Turning Yellow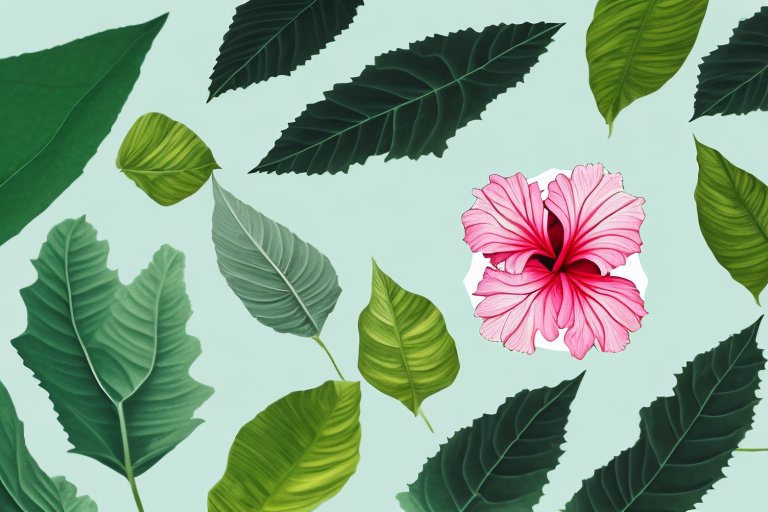 Do you have a potted hibiscus at home that seems a bit under the weather? Are you noticing those vibrant green leaves turning yellow? Don't fret! In this article, we will delve into the world of hibiscus plants and explore the possible causes and solutions for those concerning yellow leaves. So let's get to the root of the problem and find out how to revive your precious potted beauty.
Understanding the Hibiscus Plant
Before we jump into the specifics of why your hibiscus leaves might be turning yellow, let's first take a moment to understand the fascinating nature of this tropical flower. The hibiscus plant, known for its vibrant blossoms, is native to warm climates and is a favorite choice for many garden enthusiasts around the world.
With their trumpet-like flowers and lush foliage, hibiscus plants can add a touch of exotic beauty to any space. These plants belong to the family Malvaceae, which includes over 200 species. The most commonly cultivated species is Hibiscus rosa-sinensis, also known as the Chinese hibiscus. Its large, showy flowers come in a variety of colors, including red, pink, orange, yellow, and white.
The hibiscus plant has a rich history and cultural significance in many countries. In Hawaii, for example, the hibiscus flower is the state flower and is often used to create beautiful leis. In Malaysia, the hibiscus is the national flower and symbolizes unity and harmony. In ancient Egypt, hibiscus tea was consumed for its medicinal properties and believed to promote good health.
The Basics of Hibiscus Care
When it comes to caring for your potted hibiscus, you'll want to ensure that you are providing it with the essentials it needs to flourish. The basics of hibiscus care include providing adequate sunlight, watering appropriately, and ensuring a suitable environment.
Hibiscus plants thrive in full sun, so it's important to place them in a location where they can receive at least six hours of direct sunlight each day. If you're growing hibiscus indoors, you can use artificial grow lights to provide the necessary light intensity.
Watering is another crucial aspect of hibiscus care. These plants prefer moist but well-drained soil. Overwatering can lead to root rot, while underwatering can cause stress and result in yellowing leaves. It's best to water your hibiscus deeply, allowing the soil to dry out slightly between waterings.
In terms of environment, hibiscus plants thrive in warm temperatures between 60 and 90 degrees Fahrenheit (15 to 32 degrees Celsius). They also prefer humidity levels of around 50%. If you live in a dry climate, you can increase humidity by misting the leaves or placing a tray of water near the plant.
Proper fertilization is also important for hibiscus plants. You can use a balanced fertilizer with a ratio of 10-10-10 or a fertilizer specifically formulated for flowering plants. Apply the fertilizer according to the instructions on the package, usually every 4-6 weeks during the growing season.
Now, let's explore why those once luscious green leaves might be turning a worrisome shade of yellow.
Identifying the Problem: Yellow Leaves
Yellow leaves on your hibiscus plant can be a distressing sight. However, they are often a sign that something is amiss, and your plant is trying to communicate with you. Understanding the common symptoms and significance of yellow leaves can help you pinpoint the problem more effectively and take the necessary steps to rectify it.
When it comes to assessing the health of your hibiscus, keep an eye out for more than just yellow leaves. Wilting, drooping, or stunted growth may accompany the discoloration, indicating a broader issue with your plant's overall well-being.
One possible cause of yellow leaves on a hibiscus plant is nutrient deficiency. Just like humans, plants require a balanced diet to thrive. If your hibiscus is lacking essential nutrients such as nitrogen, iron, or magnesium, it may exhibit yellowing leaves as a cry for help. In such cases, providing a suitable fertilizer or adjusting the soil pH can help restore the plant's nutrient balance and bring back its vibrant green foliage.
Another common culprit behind yellow leaves is improper watering. While hibiscus plants enjoy moist soil, overwatering can lead to root rot and hinder the plant's ability to absorb nutrients. On the other hand, underwatering can cause stress and result in yellowing leaves. Finding the right balance and ensuring proper drainage is crucial for maintaining the health of your hibiscus.
Pests and diseases can also contribute to yellow leaves on hibiscus plants. Aphids, spider mites, and whiteflies are common pests that can suck the sap from leaves, causing them to turn yellow and eventually die. Fungal infections, such as powdery mildew or leaf spot, can also lead to discoloration. Regularly inspecting your plant for signs of pests and promptly treating any infections can help prevent yellow leaves and keep your hibiscus thriving.
Environmental factors can play a role in the development of yellow leaves as well. Excessive exposure to direct sunlight, extreme temperatures, or sudden changes in weather conditions can cause stress and lead to leaf discoloration. Providing shade, adjusting the plant's location, or protecting it from harsh elements can help alleviate these issues and promote healthy leaf growth.
Lastly, it is important to consider the age of the yellow leaves. If only the lower leaves are turning yellow, it could be a natural part of the plant's growth cycle. As hibiscus plants age, they shed older leaves to make room for new growth. However, if the yellowing occurs throughout the entire plant, it is likely a sign of an underlying problem that needs attention.
Yellow leaves on a hibiscus plant are often an indication of stress or imbalance within its internal processes. By paying attention to these signals, you can tackle the underlying cause and help your plant regain its vitality in no time.
Possible Causes of Yellow Leaves
Now that we understand the importance of yellow leaves as a distress signal, let's explore some possible causes for this phenomenon and unveil the root of the problem.
Overwatering or Underwatering
Overzealous caretakers or forgetful waterers, both can contribute to yellowing leaves on your hibiscus. Too much water, leading to root rot, can hinder the plant's ability to absorb nutrients properly. On the other hand, underwatering can cause dehydration and nutrient deficiencies.
When it comes to overwatering, it's important to strike a balance. While plants need water to survive, excessive moisture can drown the roots and create an environment that promotes the growth of harmful bacteria and fungi. These pathogens attack the roots, impairing their ability to take up nutrients and water. As a result, the leaves may turn yellow as the plant struggles to obtain the necessary resources for growth and development.
On the contrary, underwatering can be just as detrimental to your hibiscus. When a plant doesn't receive enough water, it goes into survival mode, conserving its resources. As a result, the leaves may turn yellow and eventually wither. Additionally, without sufficient water, the plant's cells cannot maintain their turgidity, leading to wilting and a lack of vitality.
Nutrient Deficiencies
Speaking of nutrient deficiencies, your hibiscus might be lacking vital elements like nitrogen, potassium, or iron. A shortage of these essential nutrients can manifest as yellow leaves, as the plant struggles to carry out its biological functions effectively.
Nitrogen is an essential nutrient for plant growth and is responsible for the production of chlorophyll, the pigment that gives plants their green color. Without sufficient nitrogen, the leaves may lose their vibrant green hue and turn yellow. Potassium, on the other hand, is crucial for overall plant health and plays a role in various physiological processes, such as water regulation and disease resistance. A deficiency in potassium can weaken the plant, making it more susceptible to stressors and resulting in yellowing leaves.
Iron is another vital nutrient that hibiscus plants require for proper growth and development. It is involved in the synthesis of chlorophyll and is essential for photosynthesis. Without enough iron, the plant cannot produce enough chlorophyll, leading to yellow leaves. Furthermore, iron deficiency can also affect the plant's ability to transport nutrients effectively, exacerbating the problem.
Pests and Diseases
The world of gardening occasionally comes with uninvited guests, such as pests or diseases. Aphids, spider mites, or fungal infections can weaken your hibiscus, leading to those unsightly yellow leaves.
Aphids are small insects that feed on the sap of plants, causing damage to the leaves and stems. Their feeding activity can disrupt the plant's nutrient uptake, resulting in yellowing leaves. Spider mites, on the other hand, are tiny arachnids that can infest hibiscus plants, sucking out the chlorophyll and causing the leaves to turn yellow or bronze. These pests can be particularly problematic in hot and dry conditions.
Fungal infections, such as powdery mildew or leaf spot, can also contribute to yellow leaves. These diseases often thrive in humid environments and can spread rapidly, affecting the plant's overall health. As the fungus colonizes the leaves, it disrupts their normal functioning, leading to discoloration and eventual yellowing.
It's important to identify and address any pest or disease issues promptly to prevent further damage to your hibiscus. Proper pest management and disease control measures, such as regular inspections, appropriate watering practices, and the use of organic or chemical treatments, can help keep your plant healthy and vibrant.
Solutions to Yellow Leaves on Hibiscus
Now that we have identified the potential culprits causing your hibiscus leaves to lose their vibrant green color, let's dive into some effective solutions that will bring back the natural beauty of your potted plant.
Adjusting Watering Techniques
Ensuring the correct watering technique is crucial for your hibiscus's well-being. Finding the right balance between underwatering and overwatering will help restore your plant's health. Check the moisture level of the soil and adjust your watering schedule accordingly.
Providing Essential Nutrients
Addressing nutrient deficiencies is paramount to revive your yellowing hibiscus leaves. A balanced fertilizer specifically formulated for hibiscus should provide the necessary nutrients and minerals needed to restore the plant's overall vigor.
Treating Pests and Diseases
If pests or diseases are the underlying cause of your hibiscus distress, it's crucial to take swift action. Identify the specific pest or disease affecting your plant and opt for the appropriate treatment, ensuring your hibiscus can recover and thrive once again.
Preventive Measures for Healthy Hibiscus
Prevention is always better than cure. To keep your hibiscus in glowing health and stave off the recurrence of yellow leaves, implement these preventive measures in your care routine.
Regular Monitoring and Maintenance
Be vigilant and keep a watchful eye on your plant's overall condition. Regularly inspect your hibiscus for any signs of stress, pests, or diseases. Prompt action at the earliest signs can prevent larger problems down the road.
Choosing the Right Pot and Soil
Ensure your hibiscus has ample space to grow by selecting an appropriately sized pot. Opt for well-draining soil that allows roots to breathe and prevents waterlogging, thus reducing the risk of root rot.
Proper Light and Temperature Conditions
Hibiscus craves sunlight, but it's essential to strike a balance. Provide your plant with the right amount of light, ensuring it does not scorch or suffer from inadequate exposure. Additionally, maintain suitable temperature conditions to avoid thermal stress.
Remember, happy hibiscus plants boast those splendid vibrant flowers and lush green leaves. By understanding the basics of hibiscus care, identifying the causes of yellow leaves, and implementing the appropriate solutions, you can revive your potted beauty and enjoy a flourishing hibiscus that will be the envy of all. So, let's get those yellow leaves on the road to a stunning comeback!