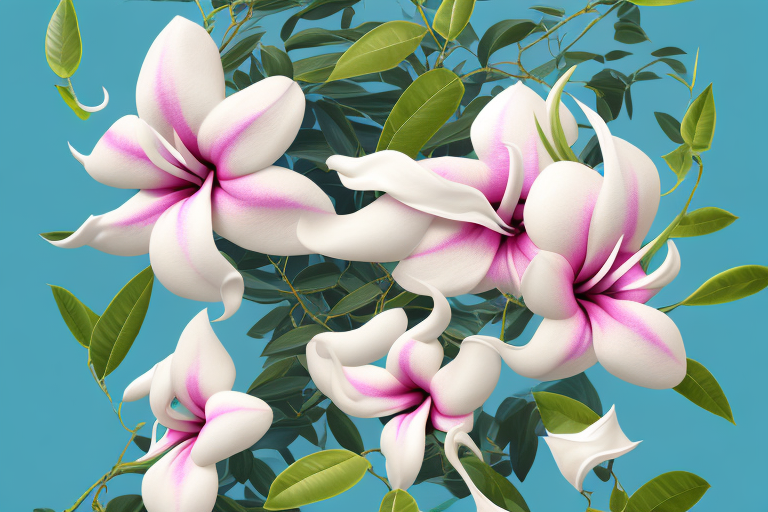 If you're a plant enthusiast or a flower lover, you may have come across the stunning Mandevilla flowers. These vibrant and eye-catching blooms are a popular choice for gardeners looking to add a touch of tropical beauty to their outdoor spaces. In this comprehensive guide, we will explore everything you need to know about Mandevilla flower care, from understanding their origin and different varieties to essential care tips, pruning and repotting techniques, pest and disease management, and even propagating these exquisite flowers.
Understanding Mandevilla Flowers
The Mandevilla flower is native to the warm and tropical regions of South America, particularly Brazil. Named after a British diplomat and botanist, Henry Mandeville, these flowers have a rich history dating back to the 19th century. It was during this time that Mandevilla flowers were first discovered and brought to Europe, instantly captivating gardeners with their enchanting beauty.
As the popularity of Mandevilla flowers grew, botanists and horticulturists began experimenting with different varieties to enhance their appeal. Today, there are numerous types of Mandevilla flowers available, each possessing its own unique charm. Some of the most common varieties include the Mandevilla x amabilis, Mandevilla sanderi, and Mandevilla splendens.
The Mandevilla x amabilis, also known as the Brazilian jasmine, is a popular choice among gardeners. With its vibrant pink flowers and glossy green leaves, it adds a touch of tropical elegance to any garden. The Mandevilla sanderi, on the other hand, is known for its stunning red blooms that create a striking contrast against its dark green foliage. Lastly, the Mandevilla splendens, with its white flowers and delicate fragrance, exudes a sense of purity and grace.
When it comes to creating a visually stunning garden display, Mandevilla flowers are a gardener's dream. Their wide range of colors, including vibrant pinks, reds, and whites, allows for endless possibilities in floral arrangements and landscaping. Whether used as climbing vines, potted plants, or as a focal point in a flowerbed, Mandevilla flowers never fail to captivate with their beauty and charm.
Aside from their aesthetic appeal, Mandevilla flowers also have practical uses. In traditional medicine, extracts from the Mandevilla plant have been used to treat various ailments, including skin conditions and respiratory problems. Additionally, the nectar of Mandevilla flowers attracts pollinators such as bees and butterflies, making them valuable contributors to the ecosystem.
In conclusion, Mandevilla flowers are not just a beautiful addition to any garden, but also a symbol of history and culture. From their origins in South America to their journey to Europe, these enchanting flowers have captured the hearts of gardeners worldwide. With their wide range of varieties and stunning colors, Mandevilla flowers offer endless possibilities for creating visually stunning garden displays. Whether used for their aesthetic appeal or their practical uses, these flowers continue to be a favorite among gardening enthusiasts.
Essential Care Tips for Mandevilla Flowers
When it comes to growing Mandevilla flowers, providing the right soil conditions is crucial. These plants thrive in well-drained soil that is rich in organic matter. Opt for a high-quality potting mix that retains moisture without becoming waterlogged. Additionally, ensure that the soil is slightly acidic, with a pH level ranging from 5.5 to 6.5.
Creating the ideal soil conditions for Mandevilla flowers is essential for their overall health and growth. The well-drained soil allows for proper root development and prevents waterlogging, which can lead to root rot. By using a high-quality potting mix, you can ensure that the soil retains enough moisture without becoming overly saturated. This balance is crucial for the Mandevilla to thrive.
Organic matter is another key component of the soil for Mandevilla flowers. It provides essential nutrients and improves the overall soil structure. Adding compost or well-rotted manure to the soil can help increase its organic matter content, creating a fertile environment for the plants to flourish.
Watering Requirements for Mandevilla
Mandevilla flowers have moderate water needs, requiring regular watering to keep the soil consistently moist. However, it's essential to find the right balance, as overwatering can lead to root rot. During hot summer months, increase the frequency of watering, making sure to water deeply to promote healthy growth and vibrant blooms.
Watering is a critical aspect of caring for Mandevilla flowers. While they require regular watering to keep the soil moist, it's important not to overdo it. Overwatering can lead to waterlogged soil, which deprives the roots of oxygen and can cause root rot. To prevent this, it's crucial to check the moisture level of the soil before watering. Stick your finger about an inch into the soil, and if it feels dry, it's time to water.
During the hot summer months, when the temperature rises, Mandevilla flowers may require more frequent watering. The increased heat can cause the soil to dry out faster, so it's important to monitor the moisture levels regularly. When watering, make sure to do it deeply, allowing the water to penetrate the root zone. This encourages the roots to grow deeper and promotes overall plant health.
Sunlight and Temperature Needs
Mandevilla flowers are tropical plants that thrive in full sun, making them ideal for gardens with ample sunlight exposure. These plants require a minimum of 6 hours of direct sunlight each day to flourish. Additionally, they prefer warm temperatures ranging between 60°F and 90°F (15°C to 32°C). Protect them from cold drafts and frost, as they are sensitive to extreme cold.
Being native to tropical regions, Mandevilla flowers are adapted to thrive in full sun. They need at least 6 hours of direct sunlight each day to produce abundant blooms and maintain their overall health. Placing them in a location with ample sunlight exposure, such as a south-facing garden or patio, is essential for their growth.
When it comes to temperature, Mandevilla flowers prefer warm conditions. They thrive in temperatures between 60°F and 90°F (15°C to 32°C). These plants are sensitive to extreme cold, so it's important to protect them from frost and cold drafts. If you live in a colder climate, consider growing Mandevilla as a potted plant that can be brought indoors during the winter months.
By providing the right amount of sunlight and maintaining the ideal temperature range, you can ensure that your Mandevilla flowers thrive and produce stunning blooms throughout the growing season.
Pruning and Repotting Mandevilla Flowers
Mandevilla flowers are a beautiful addition to any garden or indoor space. Their vibrant colors and lush foliage make them a popular choice among plant enthusiasts. However, like any plant, Mandevilla flowers require proper care and maintenance to thrive. Pruning and repotting are two essential tasks that help ensure the health and appearance of these stunning flowers.
When and How to Prune Mandevilla
Pruning plays a crucial role in maintaining the health and appearance of your Mandevilla flowers. It is best to prune them during early spring before the growing season begins. This timing allows the plant to recover from any pruning stress and promotes vigorous growth throughout the season.
When pruning your Mandevilla, start by assessing the plant's overall shape and size. Look for any leggy or overgrown branches that may be detracting from its appearance. These branches can be trimmed back to promote bushier growth and encourage more blooms.
It is important to use clean and sharp pruning tools when working with Mandevilla flowers. Before making any cuts, sterilize your tools with rubbing alcohol or a bleach solution. This precaution helps prevent the spread of diseases and ensures a healthy pruning process.
Steps to Repotting Mandevilla
Repotting Mandevilla flowers is necessary when they outgrow their containers or when you notice their roots becoming rootbound. Spring is the best time to repot these plants as they enter their active growing phase and can easily adjust to their new environment.
When selecting a new pot for your Mandevilla, choose one that is slightly larger than the current container. This allows room for the plant to grow and prevents it from becoming rootbound. Additionally, ensure that the new pot has drainage holes to prevent waterlogging, which can lead to root rot.
Before repotting, gently remove the Mandevilla from its current pot. Carefully loosen the roots to encourage healthy growth and prevent them from becoming tangled or compacted. Once the plant is free from its old container, place it in the new pot, making sure to position it at the same depth as before.
Next, fill the empty spaces around the roots with fresh, well-draining potting mix. This mix should be specifically formulated for tropical plants and provide the necessary nutrients and moisture retention. Gently press the soil around the plant to secure it in place and water thoroughly to settle the soil.
After repotting, place your Mandevilla in a location that receives bright, indirect sunlight. This will provide the plant with the necessary light for photosynthesis while protecting it from scorching rays. Keep the soil consistently moist but avoid overwatering, as excessive moisture can lead to root rot.
By following these pruning and repotting guidelines, you can ensure that your Mandevilla flowers remain healthy, vibrant, and a stunning focal point in your garden or home. Remember to regularly monitor your plant's growth and adjust your care routine accordingly. With proper attention and care, your Mandevilla will reward you with an abundance of beautiful blooms.
Pest and Disease Management for Mandevilla
Common Pests Affecting Mandevilla
Like any other plant, Mandevilla flowers are susceptible to pests. Common pests that can pose a threat to these plants include aphids, spider mites, whiteflies, and mealybugs. Regularly inspect your plants for signs of infestation, such as yellowing leaves or sticky residue. Utilize natural pest control methods or insecticidal soaps to combat these unwanted visitors.
Diseases and Their Prevention
Mandevilla flowers can be prone to certain diseases, such as powdery mildew and root rot. To prevent these issues, ensure proper air circulation around your plants by providing ample spacing between them. Avoid overwatering and always water at the base of the plant, as wet foliage can lead to fungal infections. Additionally, remove any infected leaves or stems promptly to prevent the spread of diseases.
Propagating Mandevilla Flowers
Propagation through Cuttings
One of the most common methods of propagating Mandevilla flowers is through stem cuttings. To propagate using this method, select a healthy stem and carefully cut it just below a node. Remove any lower leaves and dip the cut end into a rooting hormone. Plant the cutting in a container filled with moist potting mix, and place it in a warm and bright location. With proper care, the cutting will develop roots and eventually grow into a new plant.
Propagation through Seeds
If you prefer a challenge, propagating Mandevilla flowers from seeds is another option. Start by collecting ripe seeds from an existing plant. Sow the seeds in a well-draining potting mix and cover them lightly. Mist the soil to keep it moist and place the pot in a warm location. Germination can take several weeks, so be patient and continue to care for the seedlings as they grow.
By following these care tips and techniques, you can ensure that your Mandevilla flowers thrive and enchant with their beautiful blooms. Whether you're a seasoned gardener or a beginner, these vibrant and tropical flowers are sure to add a touch of exotic elegance to your garden or outdoor space.